Xavier Student Brings Christmas Cheer to Phoenix Children's Hospital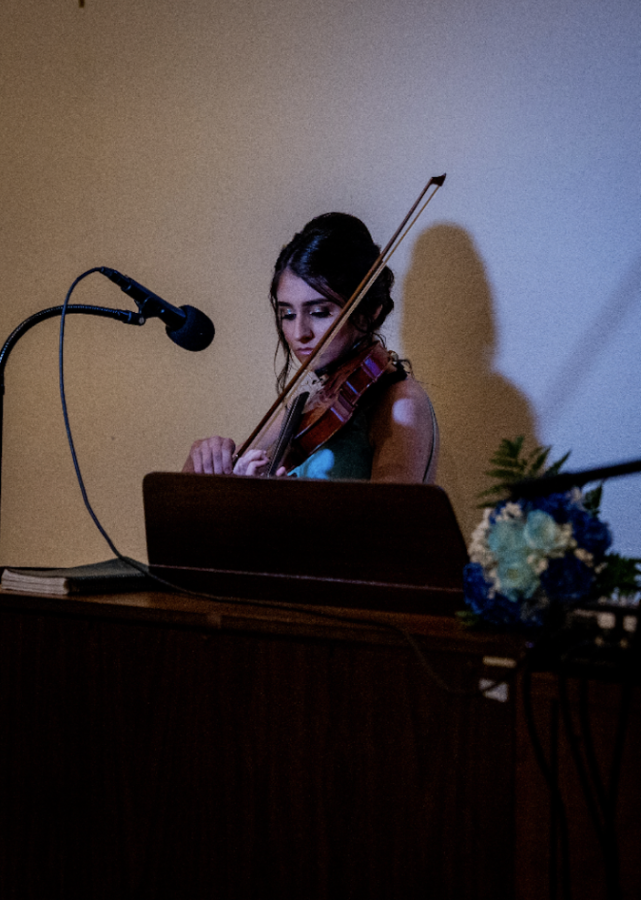 Claire Sabol, Club Writer
December 12, 2018
The Christmas season is a time of joy, family, and celebration. During this season, many people begin to volunteer around their neighborhoods to spread the holiday cheer. Xavier junior Edyta Zimny surely had this in mind when she organized for her and some members of the Brophy/Xavier Orchestra to go to Phoenix Children's Hospital to bring joy to the children and families spending Christmas in the hospital.
Q:  What are you and the orchestra doing at Phoenix Children's?
Zimny: At Phoenix Children's there is an event called Toyland on December 24th. Many kiddos who are in the hospital during the holidays may not get to experience Santa or even the Holidays. On Christmas Eve, Volunteer Services at Phoenix Children's make a Santa's workshop where parents are able to choose gifts for their children and have elves (volunteers) wrap them and give to Santa to give to the children. We are going to be playing various Christmas Carols and Holidays songs to bring the cozy Christmas spirit.
Q: Why did you choose Phoenix Children's?
Zimny: Phoenix Children's has a special place in my heart. I got an amazing gift from Phoenix Children's and that was the gift of healing finding out my passion. I see the many wonders that the staff at Phoenix Children's brings to the hospital. This place was meant for kids and it's the best place for anyone to be. The staff is like a family that all supports each other, and the patients are wonderful. As a patient at Phoenix Children's, I personally experienced all that the hospital had to offer and I want to give back.
Q: What motivated you to bring along the orchestra?
Zimny: Phoenix Children's is a community. It's truly amazing when more than one person comes together to make a difference. I have always wanted to play at Phoenix Children's with some of the members of the Brophy/Xavier orchestra. Anyone who has seen a live orchestra knows the impact that playing together can have. Christmas is a time of laughter, joy, and being together. The orchestra here is a family, and we are passionate about service.
What are some of the pieces you will be playing?
Zimny: We will be playing at Phoenix Children's from 8 am up until 2 pm. We will be playing so many holiday pieces such as excerpts from the Nutcracker. The known Carol of the Bells, Rudolph, Jingle Bells, and anything that will bring smiles and Christmas Spirit.  
Q: Did you organize it yourself?
Zimny: It's actually really funny how this was organized. I have always wanted to play at Phoenix Children's. I sent in an application to play as a group called "the Jingle Three," but I never heard back. One day before the start of my shift I was talking to my supervisors at Volunteer Services about how I saw a string quartet play at Phoenix Children's and how I wanted to do the same, but Christmas style. Then one of the staff turned back and said that they have never had live music at Toyland and that they would love to try to get "the Jingle Three" to play. I had to get all of the music myself and organize how the music would work. Mr. Paul Olson [the orchestra director] helped me get into Brophy's music library and let me borrow music. I have wonderful help from two orchestra people that are joining me, seniors Karson Hawkins and Alexandra Mesquita. We are more than excited to play. I had to find the music, the people, and see how we could fit live music in this event.
Q: Any additional comments?
Zimny: We are beyond excited to play at Phoenix Children's and bring joy to the kiddos. I love being a volunteer there, the best gift I can get is spending my day volunteering at Phoenix Children's with my friends and family.