Goat Yoga: The Solution to Your New Year's Resolution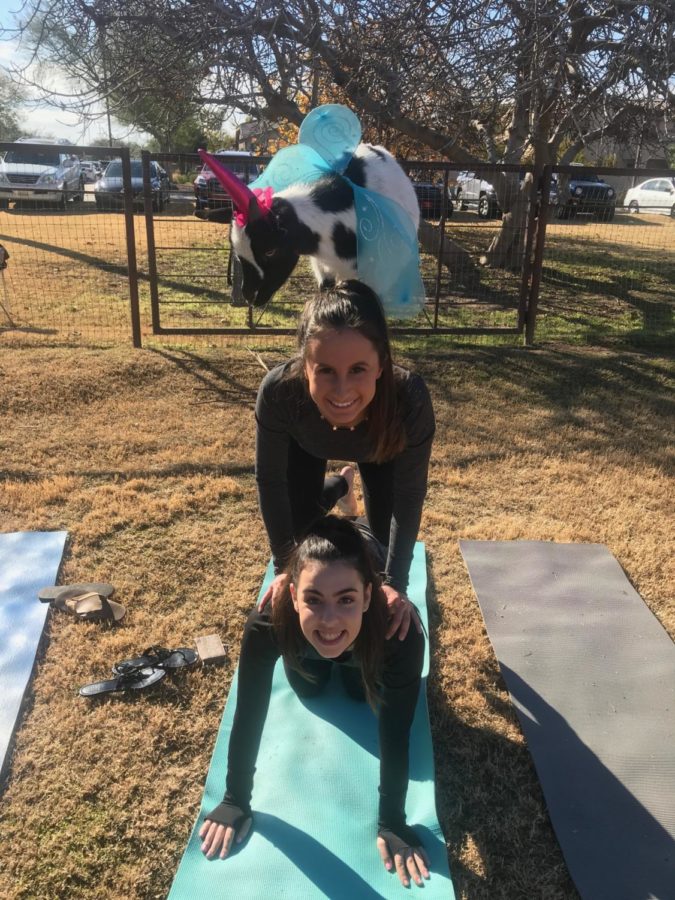 Kit Blouin, Class Writer
January 22, 2019
As the new year has begun and the idea of achieving the "New year, new me" lifestyle you had in store for 2019 becomes more intimidating, an easy way to start your journey is by finding fun, inventive ways to intensify your fitness routine. After a long investigation, I came to the conclusion: What better way to start my fitness journey than with friends and goats?
For as long as I can remember goats have been my favorite animal. I strongly believe there is something so joyful about goats that any simple interaction with them brings a smile to anyone's face. So, when I first heard about the idea of Goat Yoga, I was more than excited to see what it was all about. I cannot recall exactly how I came across this new trendy yoga spin-off, but once I understood it, I was on board. I first gathered information on it from the official Goat Yoga website (www.goatyoga.com), and emailed the owner, Sarah, for some additional information. I decided I would attend the Sat., Jan. 12 session at April Farm's in Chandler to see once and for all what all the hype was about.
I convinced a friend to go along with me to enjoy the experience. When we first arrived, we paid $20 but most customers paid $15 online prior to the event. We rented yoga mats for $5 and set up along a large circle amongst the other yogis. Initially, goats were scattered around the farm as participants fed and played with them. Each goat was dressed to the theme of fairy tales (fairies, unicorns, princesses, etc.). Within a few minutes, the instructor gave us a brief explanation of what we would be doing and we began our yoga. People of all ages and sizes were there to enjoy the company of goats along with some simple, all-inclusive yoga. Various popular poses were used while goats wandered around, some jumping on backs while others running around us. After around 20-30 minutes of yoga, we moved on to learn some fun, creative poses to do with the goats. I felt that this was one of the most engaging and exciting parts of the day.
Junior Olivia Petrine was also in attendance and shares, "I loved Goat Yoga because it was a different take on traditional yoga. The class was very engaging and I loved the variety of poses with the goats".
After photos were taken, yogis began to leave and I was able to talk with Co-Founder and yoga instructor, Sarah Williams. I discussed with Sarah how Goat Yoga came to be, "About two and a half years ago April (Co-Founder of Goat Yoga) had all these goats and she wasn't doing anything with them. I have a paddle board business but nobody rents paddle boards in the winter, I had been teaching yoga forever, I thought, 'we should do goat yoga' so it kinda started as a joke, we dressed up the goats and there were about eight people in our first class. We put it on Facebook and suddenly all the new stations started picking it up." Sarah and I continued to discuss her goat yoga journey as she explained, "In the next year, February is national goat yoga month… we will be doing the Guinness book of world records largest goat yoga class with 350 people and 70 goats. It will be a 1:5 goat to person ratio, we will bring our cow for 'cow cuddling' and the alpacas for the 'alpaca photo booth'."
Co-Founders Sarah Williams and April Gould have an immense passion for both their job and goat yoga, which was extremely inspiring and contagious to all that were in attendance. As if yoga and goats weren't wonderful just on their own, the combination of the two was nothing short of a wonderful time and a once in a lifetime opportunity. I recommend Goat Yoga to anyone looking to expand their fitness horizons or even for someone who wants to get out into nature and enjoy a fun activity with friends. As the new year begins, I challenge all of you to try something new. Who knows, maybe you will end up in downward dog with a goat on your back?