Girls Have IT Camp: an exciting STEAM opportunity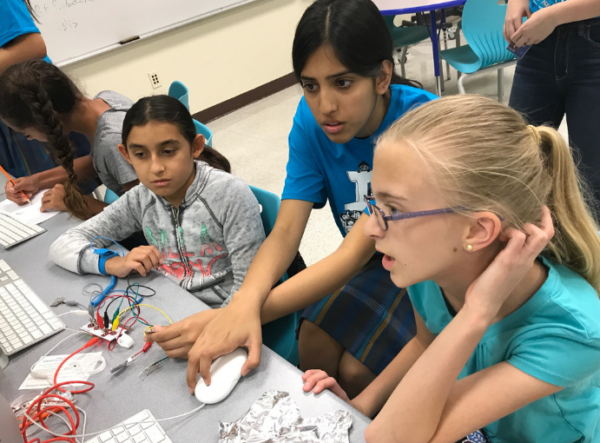 Hang on for a minute...we're trying to find some more stories you might like.
You may be familiar with Xavier's Girls Have IT Day, a day dedicated to teaching middle school girls about the importance of science, technology, engineering, art and math. Each year, Xavier holds GHID on campus and invites middle school girls to participate in a handful of activities to learn more about STEAM (Science, Technology, Engineering, Art, and Math and the various ways it applies to each of their lives.
Recently, Xavier has shifted its focus from one day to a week long camp: Girls Have IT Camp, a student-run summer camp that aims to engage, excite and encourage middle school girls about STEAM. In this program, Xavier students and middle schoolers will engage in a week of science, including: physics, chemistry and biology projects and laboratories. Additionally, there will be a week of technology where the girls will learn the ins and outs of coding, robotics and 3D printing.
In years past, many current Xavier Gators have attended GHIC as both campers and counselors. Past camper and current freshman Catherine Alaimo attended camp a few years prior and loved that it kindled her interest in STEAM. She says that, "Being a camper at GHIC was an amazing experience. It gave me a little taste of what being a student at Xavier was like. I think it is important for middle schoolers to learn about STEAM so they can know more about what they might be interested in. You never know what you will be doing in 15 years, so I think it is important to give everything a try, even if you tell yourself you won't like it, which is what I told myself. I ended up having an amazing experience at GHIC!"
What's more, is that Xavier students have the opportunity to grow and mentors and leaders. Senior Carisa Aguilera was a counselor at Girls Have IT Camp and loved the experience. She says "I think the Girls Have IT Camp was a helpful way for me to get a chance to be in a leadership position and helped me see how the young girls looked up to me. My favorite part about being a counselor was seeing how excited the girls were to learn about 3D printing and seeing how creative they all were." This Camp sets up the opportunity for Xavier students to excel in STEAM, to explore different outlets in computer science and technology, and to discover new things they are passionate about. GHIC teaches gators how important it is to bring a new generation of females in the STEAM field and encourage younger students to get involved as well.
Are you interested about the camp? Keep an eye on your XCP inbox, Mrs. Wyman, Co-Director of GHIC, says that, "There will be an email and an announcement in March encouraging girls to sign up.  It's a great way to get service hours!"