2019 Award Show Recap and Controversies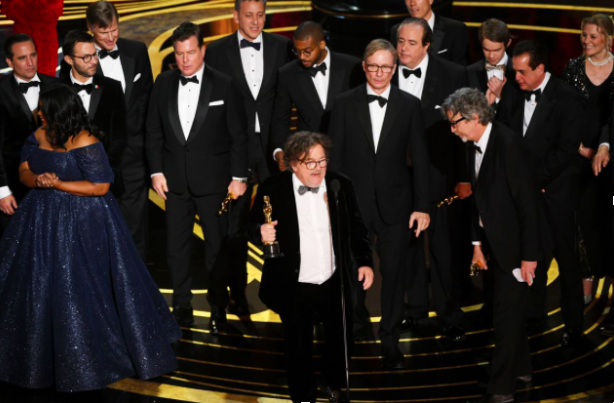 Kit Blouin, Class Writer
March 13, 2019
Each year millions of viewers tune in to the two of the most prestigious entertainment award shows in hopes to watch their favorite artist or film being honored. The stakes are high when the Grammys and Oscars begin, each viewer at home holding their own hopes and opinions for the night, but in the end there will always be controversy with the winners. This year the Grammys took place on Feb. 10, followed two weeks later by the Oscars on Feb. 24. I tuned into both this year in order to get an accurate play by play of the night's events all while staying updated on social media to watch as the viewers at home made their statements and objections to the night. The ongoing controversies and debates over the winners of the Grammy's and Oscar's proposes one question: Can we trust these award shows to give the people what we want?
The drama of award shows is always over dramatised through the media in order to gain more views. In recent years the number of views of the Grammys has dropped while this year the Oscars rose in views surpassing over 26 million viewers. My hypothesis for this is: Many people are tired of not receiving what they want from these shows and the premise of them is no longer based off of the art itself, but politics.
With the decision to not have a host at the 2019 Oscar's, there was hope that less drama would surround the highly esteemed award show. Sadly, this decision did not ensure a controversial-free night. Many objections were made towards the "Picture of the Year" Oscar given to the film Green Book with competitors such as A Star is Born, Bohemian Rhapsody, as well as other well known and loved films. Also, many viewers were confused and upset over the winning film, Green Book, being less widely talked about in comparison to its competitors. Some may say no one was as upset as Spike Lee, director of the losing film, BlacKkKlansman, who, NBC News reported, "stormed out of the theater once the winner was announced." Decisions like this widely upset the viewers and once again brought frustration to the viewers of these award shows.
Junior Grace Haak shares her take on "Picture of the Year", "I often don't watch award shows and I've never been much of a fan of the Oscars, but this year I tuned in hopes to watch one of my favorite films, A Star is Born win 'Picture of the Year'. When the news came out that Green Book had won I was confused and upset. I felt the other films up for the award were just as deserving if not more of this honor. I hope in the future these award shows do a better job at conveying what we, the people want and love."
On another note, controversies in the Grammys were much more prudent this year. One of the biggest upsets of this year's show was the "Rap Album of the Year". In a major upset to many music fanatics, Cardi B was awarded this Grammy for her album, "Invasion of Privacy". A bit of a novice to the music industry, Cardi has made quite the impact on the rap genre as an upcoming female coming from humble roots in the South Bronx. Under most circumstances, fans and viewers would be ecstatic over a powerful, upcoming female receiving such a prestigious award, but controversies drew from mourning fans looking to honor the late, great Mac Miller.
Miller, a Pittsburgh native, who had been creating and writing his own music since the young age of 15, has made major waves in the rap industry. After releasing his fifth studio album, Miller sadly passed away on Nov. 5, 2018 from a drug overdose. Music fans from all over mourned the death of the young 27 year old. Miller's final album "Swimming" was up for "Rap Album of the Year". The announcing of Cardi's win left millions of Mac Miller fans and music fans alike confused and upset. To top it off, many fans and viewers were upset because the Grammy's had flown out Miller's family in hopes to show them a tribute that was made in anticipating of Miller's possible win. Many believed this gave his family a false sense of hope that Miller's life's work would finally be recognized. A Mac Miller fan and junior Olivia Petrine shared her take on this upset, "I have always been a big fan of Mac Miller. I think his music is unique and well written. With that said I was never much of a Cardi B fan, her music is generic and lacks deep meaning. When I heard that she won Rap Album of the Year I was happy for her but upset that Mac and his family were completely disregarded by the Academy's voting board particularly in their respect for his family's mourning and for honoring his legacy and his work in the rap industry. Incidents like this have driven me to no longer watch award shows, like the Grammys. It has become difficult to trust them and believe in the process behind choosing who wins such an honor."
Due to the various turn of events throughout both shows it has become difficult for many fans to continue to stay loyal when the controversies surrounding the award shows are upsetting and conflicting.