Frosh v. Senior trends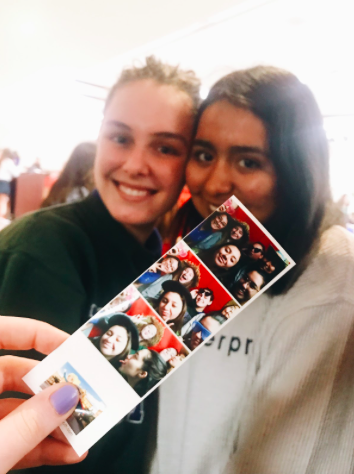 A lot has changed over the past four years at Xavier. Trends come and go, but memories of such trends stay forever. For the Class of 2019, there have been some definite main stakes in the trend market.
Freshman year was marked by events such as the now discontinued Frosh Mixer, Khalia Lanier's winning Gatorade Volleyball Player of the Year and walking to Dutch Bros and/or AJ's after school. Music trends from this year included listening to the Weeknd, "Trap Queen" by Fetty Wap, and Drake's "Hotline Bling." In fashion, Herschel backpacks and Adidas shoes dominated. The Class of 2019 came alive when Just Seconds Apart visited and thought at one point that Malala was going to be visiting the school (spoiler alert: it was Khalia's Gatorade assembly). Strength was shown in P.E. class self-defense classes, where sharp cat keychains were coined as essential.
Sophomore year was marked by the opening of Flowerchild and Sauce: two new convenient after-school food locations. Another hotspot for Xavier sophomores was the now moved Urban Cookies. Sophomore fashion consisted of the same principles as Freshman year: Herschel backpacks and Adidas shoes. Music consisted of Desiigner's "Panda", Drake's "One Dance", the Weeknd's "Starboy", and Rae Sremmund's "Black Beatles." Events this year included the 2016 election, the Chicago Cubs winning the World Series, and the opening of the now-closed Dolphanaris in Scottsdale.
Junior year began with a bang as the Class of 2019 won their first rally. Just Seconds Apart made their second campus visit, a welcome surprise. Everyone scurried to sign up for Rio Salado, contacting Claudia for any of their questions. Music this year was dominated by Kendrick Lamar's "Humble", Post Malone's "Congratulations", and the return of Ariana Grande with the single "No Tears Left to Cry.'' Fashion trends included slide sandals, dad shoes and the return of scrunchies.  
Senior year was marked by the opening of Starbucks, the Xavier Fashion Show and senior treats. Fashion trends include fanny packs donned during senior assassins, white Nike Air Force One shoes and scrunchies once again. Airpods also rose to fame this year, serving as a subtle flex for the Xavier community. The Class of 2019 held their breath as dress code rumors swirled, and let out a sigh of relief as it was revealed that the skirt length would be the middle of the knee next year. The year ended with XChella, a celebration for all those Xavier students unable to make the annual trek to Indio's Coachella.
In the end, while it is fun to look back on the different trends that have formed the Class of 2019, it is also important to look forward. What are the trends that the class of 2019 is going to make for the world? What will be the Xavier community's impact? For seniors, leaving is hard, but looking back and reminiscing is always welcome.
Is there another trend that you can think of but was not in the article? Comment it below!