Three Inches Closer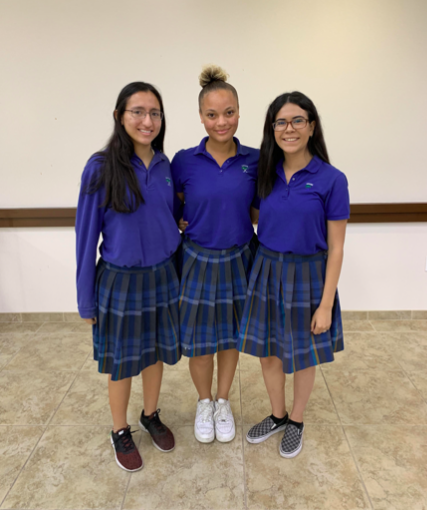 The plaid skirt is a long-standing tradition at Xavier, enduring for 55 years. It is a symbol in our lives and sets us apart from a number of other Catholic and private schools. Our skirts are a major part of our identities as high school girls. And because we are so accustomed to our uniforms, we're able to dress while half asleep! Even the slightest change to our skirts has a huge impact on us. This became especially evident with the announcing of a new rule at the end of last year. The rule changed the skirt length from three inches above the knee to the top of our kneecap. When this rule was implemented, the question all of us asked was-why?
It's natural for the human mind to run wild, especially when it seems like your world is being disrupted. We're all used to looking like one another, after all, that is the purpose of a uniform. But, for some reason, when Dean Denise Macrina announced this new change, it seemed personal. We wondered if it were something we did to cause this change. Our minds started to race over every memory of the years leading up to the new rule. We began to look back at our own skirts from the past years and wondered if, at some point, we ourselves took advantage of how short we could have our skirts. Those curiosities began to circle around in our minds. 
However, after talking with Dean Macrina, I learned her decision wasn't in response to girls intentionally going against the dress code. Instead, the administration's decision took into consideration that three inches above the knee looks different on every girl because of their height or body types. It was meant to be a way to make sure we didn't just look the same but treated each other with the same kind of love Dean Macrina speaks about on the announcements when she says "love you mean it."
Although much of the feedback around campus is positive, there are still some who grumble about the new rule. The main objection for these girls is buying a new skirt, especially if they are entering their senior year. As a senior, I can understand the frustration many of my fellow seniors feel; however, the whole point of this rule isn't to frustrate girls or make them feel bad about their previous skirt lengths. It is a way to bring uniformity to the entire school. 
From Dean Macrina's point of view, it is a decision meant to bring us all closer together, even if it is just three inches. Dean Macrina is also hoping that we all learn something from this change-something that is a little less about our uniforms and more about ourselves. She is hoping we learn something about modesty, about how we, in her words, could apply "the Catholic morals and values" to our everyday lives. But that begs the question, what does it mean to be modest today? And well, that is a story for another day.