Freshman First vs Senior Lasts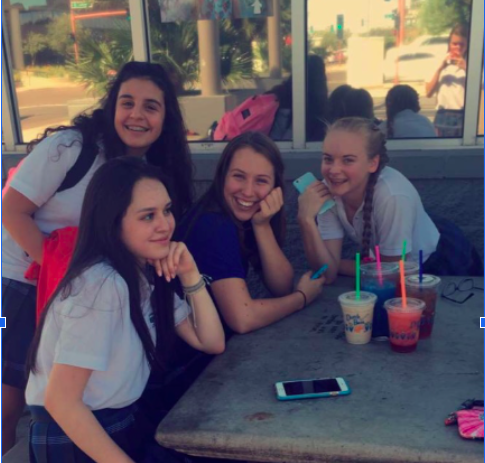 Hang on for a minute...we're trying to find some more stories you might like.
High School is a unique and memorable experience that people carry with them throughout their life. The Xavier experience is no different. Freshman year starts your highschool journey with the first day of school, followed the first dance, and then the first football game. In contrast, the Senior class prepares for their many lats. The last first day, the last first dance, and the last first football game. In a way, it's a new beginning for the Frosh, and the start of the end for the Seniors. 
The first day of school is filled with feelings of jitters, anxiety, and excitement for the Freshman class as they step foot on their new home for the next four years. Freshman Alanna Nowman '23 recalls her first day, "…I was thinking about so many different things such as making new friends, not getting lost, and knowing my class requirements. It was somehow overwhelmingly refreshing to be in a new school environment".Looking back on their freshman year the senior class of 2020 can relate to Nowman's feeling, but this first day of school felt different for Seniors. Knowing that next year at this time they won't be putting on the uniform and trying to find parking anymore. 
The first football game of the year is important to Xavier students because it is one of the first big social events with Brophy for the year.The student section roars with life as they cheer for the Bronco football team and Xavier spiritline. It's not uncommon for Freshmen to meet their best friends at their first highschool football game! Ally Orrego '23 talks about her first game as a freshman, "My first football game experience was so much fun! I met so many people I had not already met at school.Football games just make you grow closer with so many others." Seniors going to their first last game were filled with excitement, they fill the stand with their friends and the sounds of cheers and cowbells fill the air. Following the football game is the first school dance of the year. Brophy and Xavier students head over to Brophy's great hall to enjoy dancing, singing, and laughter. The Freshman class get their own dance called the frosh mixer, prior ro any big social events, as a way to introduce them to the Xvaier and Brophy community. Alanna Nowlen '23 thought the Frosh mixer was "so much fun! You could dance, go swimming, or just hang out with your friends and eat flavored ice."Freshman and Seniors both find common ground in attending all school functions and events as  Seniors switch from their junior mindset of skipping dances because they are "too busy" and are sure to attend because soon they won't be attending high school dances anymore. 
Two of the most memorable years of highschool are the first and the last. However, the differences between these years are vast. To the Frosh the future seems distant, while for Seniors it seems like its coming too fast.