What Xavier Thinks of Thanksgiving Pies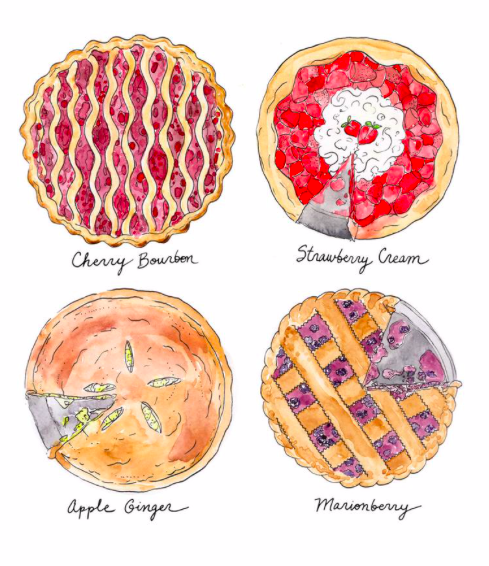 When you think about the delicacies of Thanksgiving, pleasant thoughts of turkeys, and cranberries usually come to mind. But pies are always at the forefront of everyone's mind. The only question is, what pie are you envisioning? 
According to a Xavier survey, the favorite choice of pie at Xavier is apple, coming in with 25% of students. Pecan took second with 20%, followed by cherry and pumpkin, tied with 15% of the votes. Other miscellaneous pies chosen were chocolate, banana, coconut, lemon, and blueberry.
 The leading choice, apple pie, is a classic and can be served at any time of the year because of its wholesomeness. Mrs. Barton, a Xavier Chemistry teacher, has a delicious way of describing her love for apple pie: "My favorite pie is my sister's apple crumb pie. I don't know what it is, but it's moist and crumbly and just because it's my little sister it adds something."
Food, in general, is always better when it is made by a loved one. Rachel Reyes '22 agreed stating, "My mom makes really good apple pies with Granny Smith Apples." Though apple is a simple, yet delicious type of pie, its texture and flavor can vary due to baking location, style, and the baker itself. But when a pie comes from a special somebody, it does not matter how it is made.
 In second place, pecan pie is known for its rich flavor and texture. Toni Garcia '22 stated pecan pie is her personal favorite because, "It was something my family always had." Pecan pie was originally made in the 1870s in the Southern United States. Mrs. Gannon, a Xavier counselor agreed pecan was her favorite, saying, "It's delicious, especially with ice cream." Before placing the pie in the oven, one puts pecans on top of it, which allows the baker to show their creativity and decorate it with any desired design.
Our third place was cherry. Cherries come in different flavors, and colors, allowing variety when baking a special cherry pie. Most commonly, Amarelle Cherries are used in cherry pies and are mixed with sugar and cornstarch to make the delectable filling. Emily Ingram '22 said she likes this type of pie because, "it reminds me of when I was younger because my family would make it frequently." Others, including, Reyna Silva '23 and Allegra Wilga '22, added: "It's yummy!" Although a top contestant, it seems cherry pie is not the one which pops into someone's head when thinking about Thanksgiving. This may be because, cherries are harvested during the summer, making cherry pies a nice summer treat when paired with ice cream.
Coming in with 15% of the votes, and tied with cherry is pumpkin pie. Pumpkins are appreciated during October, mostly for Halloween carving, and Starbuck lattes. Victoria Sciarrotta '22 said she enjoys pumpkin pie because "It's just good! Especially with whipped cream on top." Pumpkin pies are usually made with a custard filling and different spices, such as cinnamon and nutmeg, to achieve the desired taste. Ellie Franser '23, on the other hand, stated, "I love pumpkin pie because it can be sweet or savory."
Although it is no surprise that pumpkin pie showed up on the list of favorites, pumpkin pie was not present during the feast when Thanksgiving was first celebrated. It was not until the 18th century when pumpkin pie became a Thanksgiving tradition in New England. In conclusion, pumpkin pie is seen as the iconic Thanksgiving dessert, but results say otherwise at Xavier.
With these different pies in mind, do not be afraid to try something new this Thanksgiving! Thanksgiving is different for people all around the world, especially in cuisine. This time is meant to be together with family and friends, and having a good time is what counts, so why not try to mix it up a bit!