Xavier Goes Abroad: Germany Edition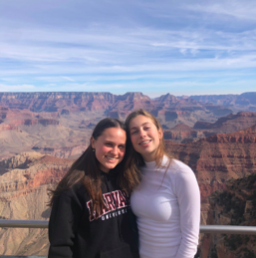 Emmie Halter, Club Writer
December 10, 2019
Traveling to Europe is a dream for many high school girls, who see this trip in Hollywood movies and on their Instagram feeds. Unfortunately, this dream can be very expensive, time consuming, and altogether difficult to execute. Luckily, this dream can become a reality through Xavier's Exchange Student Program to Aachen, Germany. Not only do Xavier girls get to travel to Aachen, but they also get to form a relationship with a German high school student. This program is a unique way to experience  Germany's culture and create friendships that will last a lifetime. The exchange program for this year has already occurred, but if you feel compelled to join the program for the next year (2020), there are still several open spots and time to contact the moderators.
The first step to this experience is meeting your German student here, in Phoenix. Your German student will stay with you and your family for two weeks while attending school with you on select days. Xavier also organizes fun activities for you and your exchange student, such as touring the Grand Canyon. XCP junior, Reagan Van Norman hosted an exchange student this year (2019) and looks forward to reuniting with her as she visits Aachen this Spring. Van Norman's favorite activity with her student was taking her to the Lantern Festival in Sedona, Arizona. Van Norrman said that "by taking my student around Arizona I got to see the state through her eyes which made me have a newfound appreciation for where I live." While signing up for the German Exchange Program, you may be narrowed in on the trip to Germany, but the time with your student in Arizona is just as special and memorable.
After spending time with their German exchange student in the states for two weeks, in return Xavier students get to visit their new friend in Aachen in the spring. Aachen is a beautiful city located near Belgium, the Netherlands, and Luxembourg, which gives Xavier students many fun activities to participate in, and even allows them to visit countries other than Germany. This was one of the main reasons why Savannah Dersam '21 decided to participate in the trip. She said that, "I have always loved traveling, and doing the German Exchange Program seemed like an amazing opportunity to experience a different culture, but at the same time meet new people." Dersam looks forward to visiting Germany in the spring to see her student, and is excited to make more memories with one of her new best friends.
To get involved with this program for the next school year (2020), listen for announcements in April or contact Illene Welty at iwelty@xcp.org or Wendy Mostoller at wmostoller@xcp.org, the two moderators of this trip, for more information.