Xavier Celebrates Traditions Week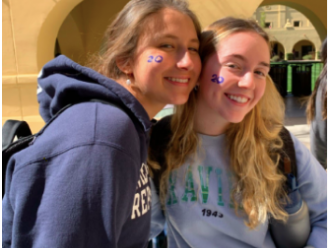 At Xavier College Preparatory, upholding traditions is something both the students and administration value as a key component of the tight-knit community. To recognize past, present, and future traditions, Xavier began celebrating Traditions Week in 1997. 
Now twenty-three years later, XCP celebrated Traditions Week through a plethora of activities and an assembly planned by President's Council throughout the week of Feb. 24-28. For most of the school year, President's Council has spent their monthly meetings to brainstorm ideas and organize events for Traditions Week. 
During traditions week, Xavier's student body is split into two "teams", who compete to earn the most points and claim the Traditions Week Trophy. This year, Seniors and Sophomores are Team Blue, while Juniors and Freshman are Team White.
On Monday, Feb. 24, President's Council brought in Jamba Juice catering, which allowed students to buy smoothies during lunch. 
On Tuesday, Feb. 25, President's Council delivered either blue or white hair ribbons to each homeroom and students were encouraged to show their spirit by wearing their ribbon. Teachers and student council representatives were tasked with counting the number of team-colored polo shirts worn in their homeroom. The number of students wearing their team color helped add points to Team Blue and Team White. 
In the middle of the day, Xavier faculty, staff, and student body attended the annual Traditions Day Assembly and listened to engaging alumnae speakers. Seniors Emma Elsbecker '20 and Alex Kockinis '20 made sure the assembly ran smoothly and introduced alumni speakers as part of their role as Co-Chairs of the Traditions Day Assembly. The Xavier Community also enjoyed a video produced and edited by the Video Committee co-chairs Isa Soriano '21 and Yolo Olguin-Rivera '21, along with other members of the President's Council.
Following the assembly, students returned to class and enjoyed participating in a free cakewalk at lunch, with treats donated by the Tradition's Day Activities Committee. Senior Tessa Gaynor '20 served as co-chair of the Cake Walk and said "it was so much fun to plan! I loved being able to organize and run the event because I know everyone really enjoyed it!"
Another annual event returned during lunch on Tuesday. Xavier students submitted answers to guess the number of chocolate candies in a container. This year's winner was Carolyn Kane '23 who guessed 333 chocolates, only two away from the actual count of 331. 
On Wednesday, President Council organized a Kahoot! game that featured trivia and historical information about Xavier. Over two hundred students participated in this fun opportunity to win points for their Traditions Week team. First place went to Imelda Hernandez '21, while Janessa Guiterrez '21 and Annlucia Gomez '21  took second and third respectively. Each girl received a candy bag filled with Hershey kisses and first place also received a Xavier pin from Gator Gear. Janessa Guitterez '21 "really enjoyed playing the Kahoot with my friends during lunch! It was such a fun activity and I hope they do it next year."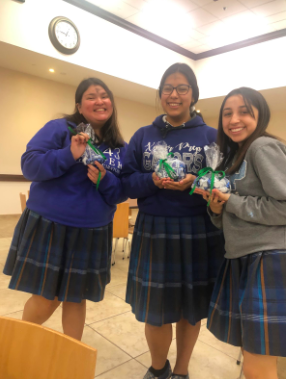 Finally, on Thursday, Feb. 27, students were allowed to wear sweans and could choose to have their graduation year painted on their faces during lunchtime.
Traditions Week is an event unique to Xavier and many students look forward to it every year. The Xavier Community appreciates President's Council and their moderators, Mrs. Cahill and Dean Macrina, for their time and commitment to planning this fun-filled week.