Backstage with Little Women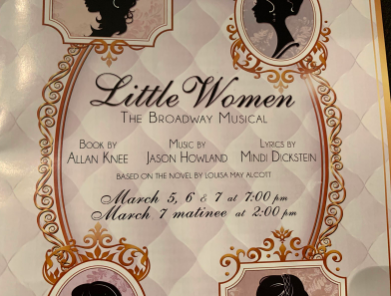 This year, Xavier's theatre department is performing Little Women the musical, which is sure to spark emotions throughout the audience. Following the story of four sisters, Meg, Jo, Beth, and Amy March, Little Women tells the life and troubles of being a young woman in the 1860s. The Xavier's Little Women is sure to give justice to the critically acclaimed movie and novel adaption on March 5, 6, 7, 2020. For all who anxiously anticipated this exciting musical, here are some of the behind the scenes actions.  
According to the stage manager, Steven Watson BCP '21 the show is running smoothly and "from a technical and acting standpoint, we are right on schedule." With the show in full swing, Watson '21 says he has enjoyed working as a stage manager and shares, "the music of this show is probably my favorite thing."
Mia Parham '20 is another behind the scenes crew member. She was promoted to Cue Lab Operator for Little Women, meaning she now "fires off everybody's cues." While talking with Mia, it became known that her favorite part of the show is she "loves to 'mic' people [because] you get to know a lot of people when you are [helping] placing their mic."
 Many exciting adventures await within the story of Little Women. Watson '21 says, "the show is not quite like anything else you have seen before. I would say this show hits a lot of the main points of the novel and movie, but [with] a different interpretation." Parham '20 is most excited for the audience to see the closing number the actors and crew have worked so hard on, adding "it is something we have all been given the chance to see [throughout rehearsals] and it's so good. You can just hear the emotion in their voices." Because the musical has many intense scenes, Watson '21 says he is ecstatic "to see everyone's reaction. [The show] is emotional and it's really sad at some points, but really happy at others." Everyone in this show has come together to form such a tight-knit community and there is sure to be excitement backstage. When asked to describe the show in one word, Parham '20 simply replied "astonishing" and much of the cast had similar responses.
Before attending a performance of Xavier's Little Women, Parham '20 and Watson '20 want to remind the audience of the difference between the book, movie, and play adaptations of Little Women. Parham '20 concluded, "there will be some aspects of the book that will not be included in the play."
The wonderful musical Little Women came to life in Xavier's main theatre on March 5th, 6th, and 7th. Xavier welcomed students and their families, faculty, staff, and members of the community to the show. All who attended spoke highly of the production and were amazed by the talent of the Xavier theatre program.