ZooLights continues to be a favorite Xavier tradition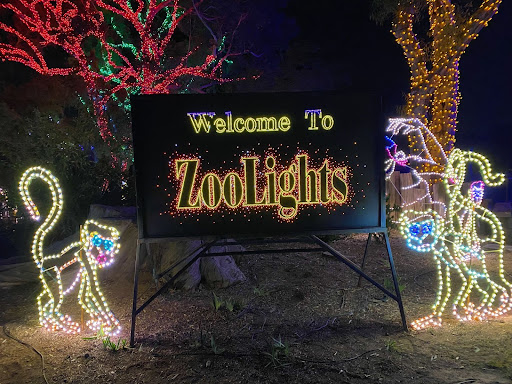 "ZooLights has always been one of my favorite ways to start the holiday season, and it was the best yet this year," said Neva Nemanic '24. On November 20, Xavier held its annual ZooLights event where cookies, brownies, coffee, hot cocoa and many other goodies were served.
The beloved tradition has been going on for five years, starting on November 19, 2016. The Phoenix Zoo has been doing light displays for thirty years.
The event started as a one-time fundraiser, but has since continued throughout the years because the sisters of the BVM loved the occasion so much.
Many students, families, faculty members, staff and alumnae attended the event. Sister Lynn Winsor said that "there were 750 Xavier students and family members, the most they've had yet." 
The zoo was very accommodating with new pathways and food stands to serve all the guests.
Although the Xavier event only occurs one night each year, extensive planning and preparation take place well in advance. Maria Murphy-Fontes, director of Mother's Guild Events, begins planning during the summer. 
One of the favorite parts of the night has to be the treats that are served by Arizona Taste Catering. Nemanic said that the "treats tree," a display that showcased multiple shelves of desserts, was unique and delicious.
The zoo had millions of sparkling lights throughout dozens of displays. There were illuminated trails, animal sculptures and plants. This year they also implemented wider roads because on certain days, cars are allowed to drive through and enjoy the lights.
Murphy-Fontes loved the look of the Arizona Trail, which led to the bakery, as well as the giant purple spider sculptures. Winsor enjoyed the light-up, 3D gators, and Nemanic liked the bright bees that floated in trees.
Winsor and Murphy-Fontes received overwhelming positive feedback, and guests especially loved the festive displays and treats.
If anyone missed the event and would like to enjoy the lights for themselves, ZooLights is still happening. According to the Phoenix Zoo website, displays are up until January 15, 2022.
Many Gators hope that the beloved tradition will continue for many years to come. "ZooLights was a favorite community event because it united all that are a part of the Xavier family," Winsor said.