Forming Xavier's own National English Honors Society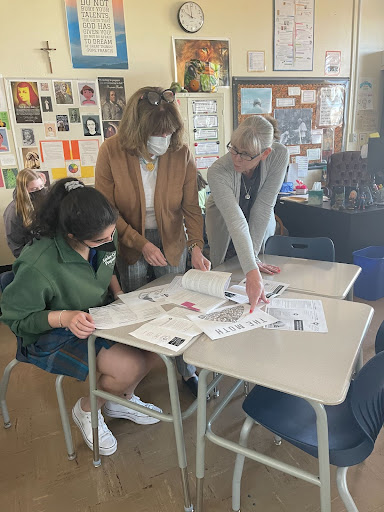 Xavier is known for its various honors societies: the National Honors Society, the National French Honors Society and the Computer Science Honors Society.  However, until now, one organization the Gators had not started is the National English Honors Society (NEHS). 
Creating this honors society involved submitting chapter bylaws, creating a name and getting students interested. With the goal of creating an engaging environment for those interested in the English field, student leaders and moderators Kelly Hubbard and Elizabeth Galbreath will fill these meetings with fun activities, such as poetry showcases, essay writing skills, analytical competitions, and more. By doing this, students will hopefully gain a better understanding of critical thinking, reading and writing.
"I first heard about NEHS from Mrs. Galbreath. When she told me about NEHS I was also excited to be a part of forming a society here at Xavier that celebrated a subject I love. I cannot wait to see how it will evolve in the years to come," Hubbard said. 
The Xavier chapter of the National English Honors Society is inspired by Sor Juana Inés de la Cruz, a well-known nun, Mexican writer, philosopher and poet. Her work focused upon the strength of women and the unfair treatment of women by men. 
Xavier's National English Honors Society founders felt that Sor Juana was the embodiment of the goals of the organization, such as encouraging the exploration of diverse and disenfranchised voices and promoting depth in understanding contemporary society and its literacy, which Sor Juana does in all of her literary works. The Xavier NEHS mission statement is one of her famous quotes, "No estudio para saber más, pero para ignorar menos," which means, "I don't study to know more, but to ignore less." 
Junior Alanna Nowlen stated, "I am so excited to join the National English Honors Society! The activities planned out for next year sound so fun, and I can't wait to participate in them." Nowlen is mainly excited for the writing competitions, as she is an avid writer. 
Xavier NEHS is also hoping to have readings and open mics. This is a way for the girls of the society to share the literary work they have been doing throughout the year. There will also be some authors coming to Xavier's campus to speak to the students about the process of writing, what inspired them to write and more. At the meetings themselves, there will be fun activities, such as competitions and writing skills practice. 
Service projects are also planned, such as the "Read Across America" project, which involves members going to various schools in the Valley and reading storybooks to young children to improve literacy skills. 
"I am very excited about the opportunities our NEHS chapter will provide for XCP students. From scholarship to publishing, performance to leadership opportunities, we look forward to becoming an integral part of our larger community while working to inspire the creativity and strong voice modeled by our namesake," Galbreath said.
The first informational session was on February 10, 2022, and many students took applications in order to be part of Xavier's National English Honors Society.