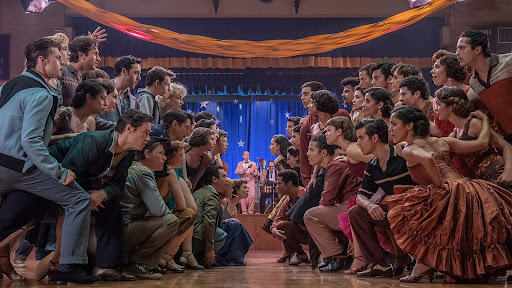 Rating "West Side Story"
March 6, 2022
Natalia and Layla praise and critique (respectively) the reimagined version of "West Side Story." *WARNING! These articles include spoilers.
"West Side Story" surpasses expectations
"West Side Story" takes place in 1950's America, and it is the musical that has it all. From upbeat and passionate songs, intricate dance sequences, humorous dialogue and an emotional rollercoaster of plot twists, there is no denying this is a musical worth remembering. 
From the long-lasting popularity of the 1961 film, it is understandable why audiences would be ecstatic to hear of a reboot being made. The only debate is how could it possibly live up to the 1961 masterpiece while staying true to the story and adding its own modern twist? 
As someone who has seen the original, I, Natalia, applaud the directors and cast for putting together such a captivating film. I definitely noticed its "modern twists," but I did not feel they betrayed the original story; if anything, they enhanced it.
Something that has been up for debate is the choice of casting. Many, including myself, were especially captivated by women in the lead roles. Senior Grace Helenic said, "I specifically enjoyed Rachel Zegler's performance as Maria. Arianna Debose was an amazing Anita and completely stole the show."
One thing that I found particularly exciting was the creation of a completely new role for actress Rita Moreno, who played Anita in the 1961 film. Her character (Valentina) was smoothly written in as Tony's caregiver. Her kind and courageous nature was greatly impactful to the film. 
I also believe that Mike Faist, the character who plays Riff, added so much personality to the film. While his character is meant to be mostly unlikeable, his performance made me much more interested in his storyline and even invoked feelings of sympathy. 
I was especially entertained by the dance skills showcased in the film. The Jets blew me away with their technique and synchronization while still maintaining their "tough" roles. 
Junior Claira Chong says as much as she noticed the "fun music and costumes," she loved the "meaningful message" behind the film. To me, the film was both entertaining and incredibly impactful. 
Leave a Comment
"West Side Story" underwhelms audience
As someone who has not seen the original "West Side Story" but became captivated by new musicals, I, Layla, had high expectations for the reimagined West Side Story. Apart from my recent love for musicals, I also had extremely high expectations for the movie because of its director, beloved Steven Spielberg.
West Side Story was not what I had in mind, unfortunately, and not in a good way. 
I found the plot too fast-paced with Maria and Tony's meeting becoming a catalyst that hurried the storyline too fast. 
Additionally, there were too many problems going on that they confused the climax of the musical.
Some might argue this is good because it gives the climax even more of a burst. I, however, think it's best if there's one main problem so that the audience can imagine a different solution and can focus on one main idea. 
The main reason for the conflicts that branched out of the movie started with the Sharks and the Jets. But what about them?
I haven't been able to find an answer yet. Senior Maddy Jorgensen was in agreement with this, as she "found the Sharks and Jets scenes super interesting" but wishes there was "a more definite conclusion to their ending."
There are several pre-existing problems between the groups such as race, assertion of one's superiority, determination of who's toughest, disputes of territory, differences in the treatment of immigrants and commoners and, lastly, interactions with others in ways that dishonor each person's group. 
Although the choreography, settings and songs were brilliant, the plot was too complex and ambiguous to fully enjoy the musical.
Leave a Comment