Xavier beach is playing for another title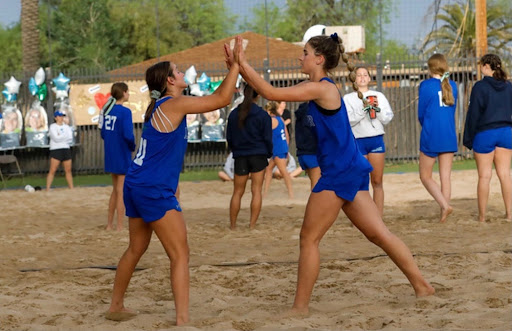 The Xavier beach volleyball team has an outstanding record, winning 8 out of 9 Division I state championships and carrying an overall record of 125-5, all while holding a 5th place national ranking. The Gators just completed a 41-game win streak since 2018, and are looking to win the title this year. 
Xavier started high school beach volleyball in 2012. Head coach Tim McHale has built an outstanding program and community where young female athletes are able to compete, support and grow their love for the game. 
"It is the most amazing community I have ever been a part of. There is something so incredible about the way we grind and the way we dig deep to pull out wins no one expects us to. We have the best coaches in the game and this team has the kind of grittiness that not only wins state championships, but also allows us to pull through in the toughest situations," said Summer McCann '23. 
This team thrives off of each player, sacrificing themselves at practice, in the middle of a match or by giving teammates an extra boost of confidence in close games. 
Senior Katie Anthony said, "Xavier beach has allowed me to work towards something that is greater than myself and to build strong friendships along the way."
This season the team consists of 24 varsity athletes, which is the most it has ever carried. McHale believes that everyone on the team, from the least-experienced to the most-experienced, has value and plays a crucial role in the success of the program.
"While this is my first time playing, I was welcomed by everyone on the team. I love how much we have all bonded in such a short amount of time, and I feel safe with everyone as if they're family," said sophomore Kaeyln Putz '24. 
McHale expects everyone on the team to always put their best foot forward, no matter the circumstances or skill level of the opponent, in order to show other high schools what Xavier beach volleyball is all about. Most high school beach programs aspire to have a program like McHale has built at Xavier. 
"Our program really is about giving our all for the greater glory of God, and at the end of the day that's what this sport is all about and that is what makes Xavier so special. Xavier beach will always have a super special place in my heart," said McCann.
The seniors have an impactful role each season as they are expected to leave the program better than they found it. Win or lose, the Gators play every point for each other, and this love and support contributes to the success of the program. 
After all the hot, windy or rainy days of training after school, the Gators completed their regular season going 9-1 and hold the 2nd overall ranking in the state.
The community is encouraged to support the beach program at Xavier on April 18 as it enters the playoffs looking to win its 9th state title and place another ring on its fingers.