Xavier Gators start to reboot for summer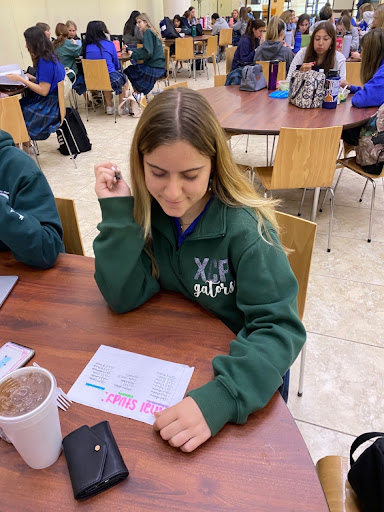 Towards the end of the school year, it is not uncommon for students to feel burnt-out and in desperate need of a break. In these last few weeks, it is important that students continue to push academically, as well as to take advantage of a mental break during the summer.
Final exams are approaching quickly, and many students feel like they don't know where to start. Mental health counselor Kathleen MacLeod-Ryan thinks it is most important that students make an organized schedule to study a little at a time.
Guidance counselor Kathleen Gannon also recommends taking ten minutes to review what students need each day. Whether it's certain chapters, or various quizlets, a little at a time helps immensely.
Many Xavier students are most likely contemplating whether or not to take summer classes this year. MacLeod-Ryan encourages students to make sure they will be able to prioritize all of their efforts into a month of summer school.
"Summer school is very intense, but it can open up the school year's schedule," said Gannon. Students will be able to take various "fun electives" next year because they take classes this summer. Some examples of electives include dance, painting, ceramics, photography and criminal law.
Sophomore Ava Silvernail '24 said that while summer school was very intense, she is glad she did it because she could take electives such as AP Seminar and Sculpture this year.
Though students may be doing summer school or have academic commitments, summer also serves as an opportunity to take the mind off of school to allow time for rest and fun.
In the summer, there are plenty of unique activities that are leisurely and provide entertainment. "This summer, I am looking forward to being able to drive my friends around to mini golf, laser tag, or even just brunch," said sophomore Elizabeth Church '24.
Xavier nurse Cara Gillem encourages high schoolers to make sure they exercise as a way to relieve stress over the summer. "A simple walk in the evening can be very beneficial," said Gillem. She also recommends silent time such as a prayer or meditation.
The summer is also an important time to work on things for college such as tours and applications. Gannon and MacLeod-Ryan both suggest that rising seniors start to think ahead about colleges they would want to apply to in the fall. 
"Taking it one day at a time lessens the dauntingness of the experience," said Gannon. Guidance counselors are available for any questions or inquiries students may have.
The end of the year can seem taxing, but by breaking things up and taking them one day at a time, it can lessen the stress. Summer break is fast approaching!