Xavier celebrates scholars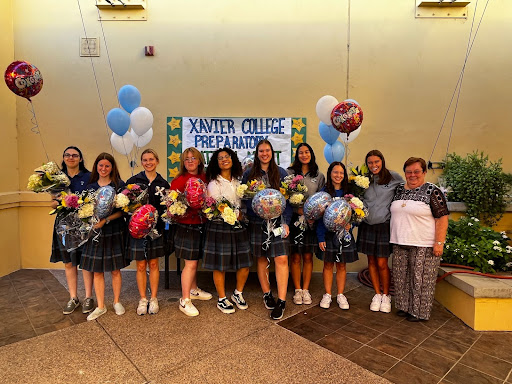 Every year, Xavier's juniors participate in the National Merit competition held by CollegeBoard. Students all over the nation take the PSAT, or National Merit Scholarship Qualifying Test, to determine who receives the honor of National Merit. 
Through this program, students are eligible for various scholarships to help them pay for college expenses. Based on each student's selection index scores, students are picked for this program. This year, many Xavier girls received the honors of National Merit Semifinalist and National Merit Commended Finalist. 
A student's selection index score is based on her reading, writing and math test scores. This score is calculated by doubling the sum of each test in the PSAT. These index numbers range anywhere from 48 to 228. 
Each year at Xavier, juniors study during fall break for this test, which occurs on the Wednesday of the students' return to campus. Resources like Khan Academy and College Board textbooks are often used to prepare for the tough material on the test each year. 
On Thursday, September 15, the National Merit Semifinalists were announced. They were as follows: Alanna Nowlen, Tatum Zerbib, Kelsey Luke, Kylie Graf, Natalie Moore, Peyton Bryant, Evelynn Papez, Hannah Fabry and Lizzy Lamprey. These girls all met or exceeded the selection criteria score of 214 for qualification. 
Senior Alanna Nowlen stated, "I was so excited! This qualifies me for scholarships that will be useful during college application season." 
Now, to qualify for National Merit Finalists, each student must complete a separate application, consisting of an essay and standardized tests scores. These results will come out at the beginning of 2023. 
Not only were the semifinalists recognized, but the commended scholars from the competition also received praise for their high academic performance on the test. The selection index cutoff for the commended scholars was 207, slightly lower than the semifinalist cutoff but still a very high index score.
Earning "commended scholar" means each student was in the top 3-4% of test-takers in the nation, an amazing accomplishment. The girls who received this award were Aubrienne Silva, Bryn Murphy, Sarah Klemmer, Mia Feix, Daria Turico, Mary Virginia Vietor and Annie Dawson. 
Upon hearing her name on the announcements, senior Sarah Klemmer later said, "I was really excited! I really loved the flowers that Xavier gave us." 
Zerbib, one of the semifinalists, mentioned, "I am so excited for all the semifinalists and commended scholars and for all the opportunities that it'll open up!" 
Xavier is proud of all the National Merit Semifinalists and Commended Scholars. The school looks forward to seeing some of the semifinalists advance to the finalist stage this upcoming year.