Xavier's Volleyball and Badminton navigate expectations for the season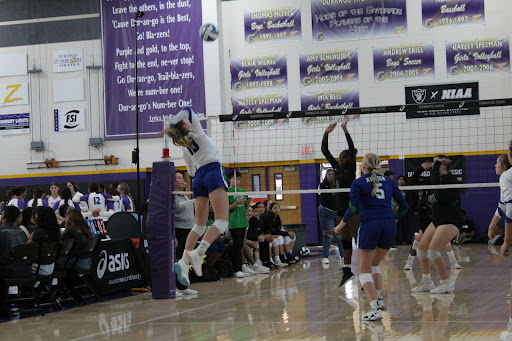 Xavier College Preparatory offers a vast variety of sports for its students. From sports, students learn disciplinary skills and healthy habits, grow in confidence and shape their personalities. These opportunities bestow invaluable experiences for athletes who seek to transcend in this demanding world.  
Coaches at Xavier inspire and motivate players to do their best. The indoor court coaches for both the volleyball and badminton teams see top-tier talent in their programs. 
This season's volleyball captains are Ava Larkin and Maddie MacDonald who were elected by the team. They set an example for the younger athletes by showing up to practices and games on time and warming up before they are expected to. They are always looking out for the girls on the team. 
Xavier volleyball has a very young team this season. Their main focus this season is to identify each athlete's skills and accommodate her to a best-fit position while building cohesiveness. 
Most girls cherish the friendships they create when being on sports teams and they consider themselves family. They love to have a little dance party in the locker before games to get their spirits up. 
The coaches always take notes of what they seek to improve in the team. The team practices six days a week. This ensures the team is confident so they can play to the best of their abilities. 
Head volleyball coach Lamar-Rennee Bryant believes athletes represent what the real world looks like. By being part of the team they learn fundamental life skills. Learning how to rely on each other, they realize everyone is unique and works best with different techniques. Bryant's favorite quote is "Don't let your ice cream melt while counting someone else's sprinkles." 
The badminton team expects to make the state playoffs this season. Although it is competitive the team knows how to respect their opponents. No matter what, teammates always enjoy their games regardless of their scores. 
Head badminton coach Brian McNerny admires how respectful the team is with each other and with other teams. He acknowledges these athletes have amazing skills and they bring a lot to the court, but he marvels at the sincere bond of the team and how the older athletes mentor the younger ones.
Gigi Riviere and Sarah Castlen were voted to be this season's captains. They have put the team first, making sure everyone is on the same page. They ensure everything goes smoothly, whether it's making sure the whole team is wearing the same uniform or that spirit-uppers (gifts or food to lift enthusiasm) are prepared before a game. 
Practices usually focus on areas where the team can improve. Players usually start with dynamic stretching and racket play. Coaches and captains customize drills that will help athletes enhance their skills.
Before games, the girls love to share spirit-uppers. Players always say a heartfelt prayer before going onto the court. A quote from Sister Kathleen has stuck with them, always encouraging them to do their best: "Don't forget to win!"