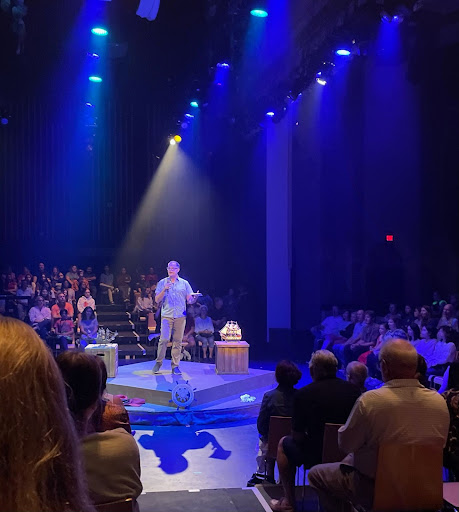 New theater team takes on 'Peter and the Starcatcher'
When going to see a play, people are normally focused on the eye-catching lights, actors and music, and do not tend to think about the numerous hours spent behind the stage. The process of rehearsing, practicing lines and learning cues, all takes time and weeks of practice. 
Xavier College Preparatory's theater team has two new additions to its crew, Mark Stoddard, director, and Kathleen Brazie, choreographer and movement director. Both Brazie and Stoddard have played crucial roles in getting the production of "Peter and the Starcatcher" live on stage. 
Entering the position of director takes a lot of diligence and responsibility. "You are not only the artistic director, but you have to be all over time management, scheduling, all while working around 85 different conflicts," Stoddard said. 
As director, Stoddard had to find someone to fill in the choreographer role. According to Brazie, she "worked with Mark Stoddard for 22 years, so we already knew each other when he asked me to do the show." During rehearsal, he would give her certain scenes to direct with her designated group. 
Braize has 25 years of experience working in shows at places such as Scottsdale Christan Academy, Notre Dame Preparatory, Phoenix College, South Mountain Community College, Arcadia High School and McClintock High School. 
After all the practicing, training and long days, seeing the play live in front of an audience is one of Stoddard's favorite parts about his job. "I love opening nights because it is just like if you play a sport, you know it's game time."
Both Stoddard and Brazie said that the most difficult part about putting together this year's play was the limited amount of time they had. A normal school play takes about 10 weeks in order to be stage ready, but since the fall play was so close to the start of the school year, the cast and crew only had approximately seven weeks to prepare. 
Assistant stage manager Jessyla Garcia said, "The cast took the extra time to learn its lines, and gave up afternoons and weekends to be at school for rehearsals." 
The dedication of every person on the cast and crew was pivotal in completing the show. "Everyone's really on board and just jumped right into the process; they always gave it their all," said Brazie. 
Having a team that is closely-bonded helps build connections that are visible on stage, and is crucial for the dynamics of a show. 
This year, Xavier's theater team did a bonding exercise called "Peter's Pals" where experienced upperclasswomen were paired with an underclasswomen or someone new to theater to help guide and introduce them to the theater life, explained Garcia. 
There are so many aspects of theater that are not shown during the live performances. Stoddard and Brazie dedicated themselves to the craft of theater, and without them, there would be no fall play.