Lights, Camera, Action: 'Peter and the Starcatcher' hits stage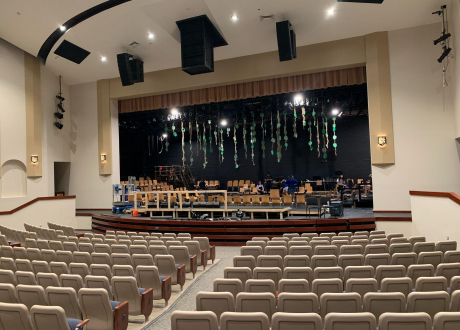 Just when people thought they knew the story of Peter Pan, Xavier's production "Peter and the Starcatcher" will uncover how it all began, and allow audiences the chance to gain a better appreciation for the magic behind the scenes. 
As the school year kicks off, the long wait for the first play of the year is over. This occasion also marks director  Mark Stoddard's and choreographer  Kathleen Brazie's debut at Xavier. 
With the story Peter Pan being familiar to most, it's easy to overlook the questions that lie beneath the surface. 
"He's been around for hundreds of years as a boy, and so this is how he came to be," Stoddard said in regards to how this play differs from the original. This rendition also features a closer look at Wendy's mom, Molly, who is visited by Peter Pan long before Wendy is even born. 
The origin story of Peter Pan isn't the only thing that excites Stoddard about this play. Stoddard has been hard at work embedding the element of "genderbending" into the play, expanding the actors' horizons and toolkits. 
"Sometimes we have a female actor playing a male character and a male actor playing a female character," said Stoddard. However, it is not limited to gender. "Actors are playing a multitude of things from doors to cats to storms." He also mentioned that there are ten actors who switch to over sixty roles throughout the play.
Choreographer and movement specialist Brazie brings her excitement for working with others to the stage. Her strong beliefs in teamwork and collaboration are what she sees as the keys to overcoming challenges. 
Brazie emphasizes the importance of co-creation and bouncing ideas off one another. "Instead of me just telling them what to do, we come up with some things together. I have some people who are more classically trained and people who are more theatrical or grounded or ethereal." 
Brazie finds the importance of being involved in drama, mentioning that theater is about creating an entire world with one another's help while teaching students to trust their creative impulses. 
It hasn't been an entirely smooth road, however. Brazie discussed the challenges of choreographing in a "theater in the round" setting where the audience is seated in a full circle around the stage. She says that it's difficult to be sure that all sides of the audience get a shared amount of time. However, she acknowledges this challenge as something that "opens up possibilities" in movement. 
Sophomore Gabriela Duarte isn't a stranger to the scene as she has been involved in Brophy's "Right2Recess" and Xavier's "Sound of Music" in her freshman year. 
In "Peter and the Starcatcher," Duarte plays the mean and cold character, Slank, who requires a British accent with a gruff voice. She finds that Slank teaches the important theme of greed and just how far he will go to get what he wants. 
Duarte expresses that being a part of this play has taught her to "enunciate many words" because she plays an older man which requires an "emphasis on diction." When asked what she enjoys most, Duarte said, "I really enjoy the cast; there are a lot of new freshmen, and I've always loved meeting new people." 
While Stoddard, Brazie and Duarte all enjoyed different aspects of the play, they all agreed on one thing: the importance of the unsung heroes behind the stage. Who programs the lights? Who helps create and change the costumes? Who designs the stage? The list goes on. 
"My hope is when people come to see a show, it's two hours of magic," Stoddard adds. "They're not aware of the hundreds of hours that are put into rehearsal, technical cues, costume making, hair, makeup, choreography and music."
All three urge students to be involved in their theater programs, and agree that it will open a wide variety of doors they never had access to before. 
"There's a very clear winner in sports. In theater, you have to think about what it means to succeed," said Brazie.