XCP swim and dive & mountain biking teams bond in successful fall seasons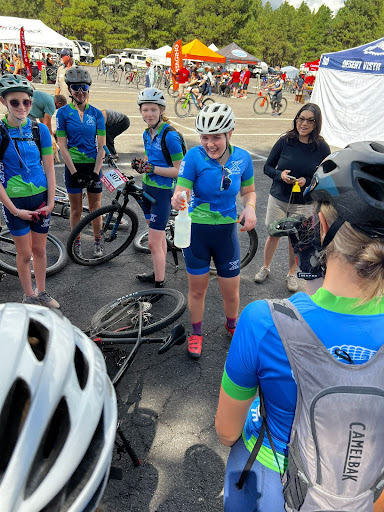 Part of what makes a team so successful is its sense of community and the special bond between each member. At Xavier, teammates join together and form families. This is especially true of Xavier's swim and dive and mountain biking teams this 2022 fall season that are each preparing and practicing for their approaching state championship meets together, despite being commonly thought of as individual sports.
Xavier "brings a team aspect into a sport that's normally individual," said Claira Chong, captain of the XCP dive team. 
These teams carry long-standing traditions, and make new ones, into every season to bring each team closer together. The activities they participate in together outside of practice contribute to  their results in the pool and on the trails.
Members of the mountain biking team have trail rides twice a week and spin and weights once a week, all in preparation for their races every other weekend. The races and practice trails are often far from home and require team travel, so teammates carpool to races and stay together at a teammate's house, fostering the formation of their own team traditions. 
Grace Morgan, captain of the mountain biking team has a favorite race ritual that includes the campfire, team dinner and the blessing of the bikes. The night before races, the team eats dinner and then settles down around a cozy campfire where they celebrate Mass as a team. On the morning of the race, the team blesses its bikes with holy water to pray for good luck and safety on the trails.
This fall, the mountain biking team has performed well, placing second in the two meets it has competed in: the Fort Tuthill County Park, Flagstaff; and Snowflake Secret Trails. Their team spirit, unity and support for each other helps team members finish strong.
"Every place matters. Individual placings determine how the team does," said Morgan.
The Gators are looking forward to their next race on October 9 at Pioneer Park, Prescott. 
The swim and dive teams have also had great fall seasons, taking three wins over Chandler High School, Highland Prep, and Mountain View, Mesa.
Both teams have different schedules and traditions, despite sharing the pool. Weeks on the swim team require hard work, with practice four days a week, spin once a week, meets every Thursday and occasional invitational meets on Saturdays.
Outside of practice, the swim team meets for breakfast every Friday morning, and it walks together to their home meets at the Brophy Aquatic Center, dressed in special themes such as pajamas, for example. A tradition that has stayed with teammates for years is that they swim the entire season without shaving their legs, until the night before the state meet because leg hair creates drag. This helps the team practice swimming under harder conditions in preparation for the championship meet, where every one-thousandth of a second counts.
Cassie Worth, captain of the swim team, said, "Each year it's always been like a family. It's a community where the teams bond over traditions that we keep and have upheld over the past couple decades. Whether you're more or less advanced, we all love each other."
Similar to the swim team, divers have practices Mondays through Wednesdays and dual meets every Thursday. The team has gained two new sophomore members, and more are completing their 11-dive list to compete in meets. 
To keep morale high, the dive team has spirit uppers (gifts of food or words to raise enthusiasm) and the team cheers before every meet, and it has team dinners spaced throughout the season. The team also plays music during practice, cheers each other on and has fun while diving. The Gators' next home meet is against Desert Ridge on October 13.