Xavier celebrates 60 years of Sister Joan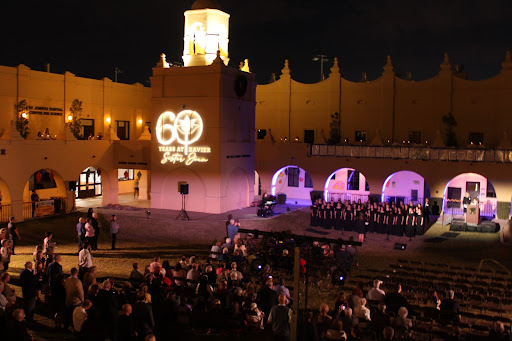 On Tuesday, Nov. 1, Xavier students and faculty gathered together to celebrate Sister Joan Fitzgerald's 60th anniversary at Xavier. 
Xavier faculty did not fail to impress with an all-school assembly featuring the honor choir, Spiritline cheerleaders, class student council officers, Executive Board and performance dancers. 
Class Student Council Officers wrote and performed parodies of popular songs from the 1960s to the 2010s as tributes to Fitzgerald's 60 years at Xavier.  
There to share his congratulations to Fitzgerald sat the honorable Governor Doug Ducey of Arizona. Seated alongside the governor was Sister LaDonna Manternach, president of the Sisters of Charity of the Blessed Virgin Mary (BVM), the order to which Fitzgerald belongs.
"There is no better role model," said Ducey in his address to the Xavier community.
"Sister Joan sets the standard in terms of leadership," he said. "Think of the excellence that has walked these hallways."
Prior to Ducey's appearance, former Xavier chaplains led an All Saints' Day Mass alongside new chaplain Father Harold Escarcega. The family of Fitzgerald, which included faculty members, were greeted with front row seats to the Mass and assembly.  
To share her own gratitude for Xavier, Fitzgerald treated students to Crumbl Cookies. 
The celebration continued when students stepped off campus. Faculty, family and the BVM sisters were treated to a catered dinner and a performance of "Somewhere Over the Rainbow" by the honor choir before the unveiling of a fountain installed in Fitzgerald's name.
National Honors Society members lined the outdoor venue with handheld candles as a symbol of "coming together" according to NHS service coordinator Lily Foster. 
"All these beautiful facilities remind me of her continuous generosity," said student council Executive Board treasurer Molly Starkle.
The celebration has "gone above and beyond my expectations," said Fitzgerald. " This has been my blessing for 60 years."