A night of auction proclaims success under desert sky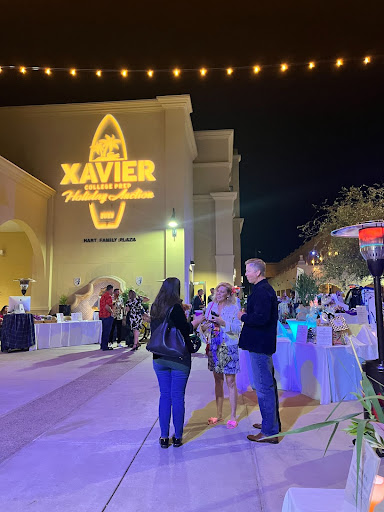 This year the Mothers' Guild is heading off to Hawaii on the Xavier Campus. Tropical drinks, leis and the chatter of family and friends were common on this November night. 
The Mothers' Guild held its 51st annual holiday auction, and Xavier parents, staff and alumnae enjoyed a night under the stars. 
The auction helped raise money for Xavier scholarships, for the Legacy of Leadership Capital Campaign. 
Maria Murphy-Fontes, the director of the Mothers' Guild Events, said "On average we make around $200,000 in total," Murphy-Fontes said. "This year is going to be no different."
This year Xavier has 22 donors ranging from Bling & Ink, an apparel company that makes designs with glitter and rhinestones, to Woudenberg Properties, an equipment supplier for the construction industry. 
According to the Mothers' Guild website, on average, 500-550 guests attend each year. Guests can buy individual tickets or a sponsorship package for a large group. 
The event starts with a silent auction. Dinner and drinks are provided as guests bid electronically on their phones. During the silent auction, sports related items, jewelry, Xavier dolls and gift baskets were auctioned off. 
While bidding, guests can enjoy buying sweatpants, pajamas, shirts, sweaters, ornaments and pillows at Gator Gear. 
At the auction, Angel Ornaments are sold at Gator Gear. It's a tradition. The ornament often is a gift for daughters bought by parents.
Monica Gaspar, the head of Gator Gear, said, "All the money from Gator Gear at the auction is put towards scholarships. This year we have benefited from $131,000 in sales." She said, "It's a time where parents also come to buy gifts for their daughters."   
The live auction follows the silent auction. High-end items such as vacation excursions, reserved parking spots and Divine Dining with the Sisters in the Convent were auctioned off. 
Sister Lynn Winsor, Xavier's vice principal for activities, said, "Divine Dining is one of the most important items in my opinion. You and seven other guests can enjoy a night with the sisters."   
Sister Joan Fitzgerald, Xavier's president, said, "Before scholarships, the money was used to pay off the debt of the buildings, but since November of 2021, we now put the money fully towards the scholarships." 
"It takes a village to put on this auction. We really do have a great group of mothers here at Xavier, and I am so grateful they can put this wonderful auction on every year," Winsor said.