Xavier members of Native American Club support Save Oak Flat Act in D.C.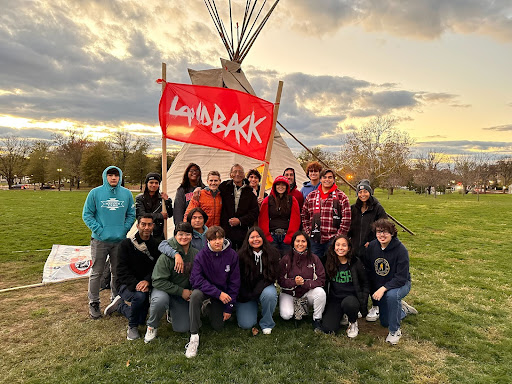 Oak Flat, a land sacred to the Native American people, specifically the Apache tribe, is in danger of being turned over to Resolution Copper Mining LLC.
 If the Save Oak Flat Act is not upheld, the mines will destroy the land, setting a precedent that will make it easier to overtake Native American territories in the future.
In order to support the Save Oak Flat Act and attend the Oak Flat University Summit, four Xavier members of the Brophy Native American Club (BNAC), Kiana Beazley, Berdina Riggs, Emily Manuelito and Ariana Shellwater, traveled to Washington D.C. this November 12-16.
The club was invited on behalf of the San Carlos Apache tribe and the Apache Stronghold in order to lobby and advocate for the Save Oak Flat Act. "The Apache Stronghold has been fighting for Oak Flat since last February," said Riggs, a senior member of the club. 
Before the trip, the girls "performed ceremonies at Oak Flat to prepare spiritually," said Riggs.
Their schedule in D.C. included "lobbying at Capitol Hill, attending the Oak Flat Unity Summit,  meeting with many different senators, including Senator Kyrsten Sinema, and working with Gonzaga High School, who helped make this trip possible," said Alexis Quintero, director of the diversity and inclusion club at Xavier (WAX).
They met with legislators to inform them of the importance of saving Oak Flat and defending its sacred land and water. 
The girls "shared [their] personal stories and the reasons why [they] are fighting for Oak Flat," said Beazley, whose mother also chaperoned the trip.
"Oak Flat is my homeland. I have a personal connection to Oak Flat, where I can participate in sacred ceremonies, but it's not just about religion. It's also about protecting the environment," said Riggs.
In addition to lobbying for the act, they thanked the legislators who were already in support of it. They "even spoke to Chairman [and Congressman Raul] Grijalva personally," said Beazley. 
Grijalva is a part of the House Natural Resources Committee in Congress. He is a leader in conservation and supports saving Oak Flat. 
Breaking into different groups throughout the day, the girls helped educate many different members of Congress about the importance of Oak Flat, and their personal reasons for saving it.
While doing this, they learned important skills such as communication and public speaking, and they represented their heritage and beliefs.
 "I'm really excited for the trip because it's a great opportunity to speak up for Oak Flat, meet people in Congress and make our stand," Manuelito said.