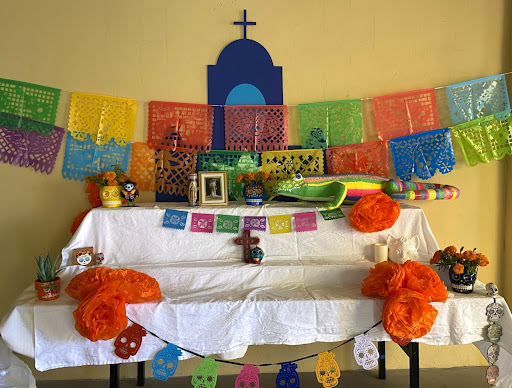 When the month of October arrives, everyone's focus turns toward trick or treating, Halloween costumes and Michael Myers. But there is more than just Halloween on October 31. There 's the Mexican holiday, Día de los Muertos.  
Every year, families around the world celebrate Día de los Muertos, or Day of the Dead, from October 31 through November 2, to honor and reflect on the lives of their deceased loved ones in a positive way. It is believed that the souls of those who have passed return to the living world to spend time with their family and friends. To welcome them as honored guests, people build ofrendas, or altars, in their homes. 
WAX club members did just that by setting up their own ofrenda outside the attendance office. Not only did the handmade sugar skulls, candles, marigolds and pictures of students' deceased loved ones capture the eyes of students walking by, but it touched the hearts of those who have also lost someone they loved.
We Are Xavier club, known as WAX club, educates the student body about different cultures, histories and traditions that exist around the world. Members have celebrated multiple international cultures on campus such as the Indian Festival of Lights, called Diwali. 
"I think more people at Xavier should know about WAX," sophomore WAX officer and co-chair of the art committee, Ginger Mago said. "We do a lot of cool things, such as bringing awareness to other cultures and events that are going on in the world. More girls should join."
Junior WAX officer and dance committee co-chair, Julia Tipsord, enjoys being a part of the club's mission, which is to celebrate diversity in the Xavier community through different activities and festivities. 
"WAX club has done so many amazing events that allow all students to get involved and to appreciate unity no matter their own backgrounds," said Tipsord.
To prepare for Día de los Muertos, WAX club held a general meeting where students made different elements for the ofrenda such as artwork, calaveras and luminarias. The next day, the students set up the ofrenda with the head of the WAX art committee and ceramics teacher, Zachary Carlson, in charge.
"It's a great way to start that conversation at home for people to ask about their own cultures and backgrounds with their families," said Carlson.
WAX club successfully completed the celebration of Día de los Muertos with the help of two Spanish teachers, Peggy Clay and Alexandra Lopez Jimenez. Carlson would double check with them on what components were needed for the vibrant and creative ofrenda WAX was working on.
"Doing this is important because our community is changing on a daily basis and becoming more diverse in regards to ethnicity, languages and different traditions, which is a wonderful thing that helps unite us," Clay said. 
"I think everyone feels included even if they are not Hispanic because they can bring a picture of a deceased pet or family member and be included in Día de Muertos whether they celebrate it at home or they don't," Jimenez said.
Students who have had Jimenez as their Spanish teacher remember doing Day of the Dead projects in her class, but now it has spread out of the classroom into a community event. WAX's contribution to making Día de los Muertos a schoolwide celebration has impacted students and faculty greatly, by making sure people of different ethnicities feel represented. 
The celebration of Día de los Muertos is more than just a holiday concurrent with Halloween. It's a celebration of the positive impact and the remembrance of what deceased loved ones did that made others smile and laugh.