XCP Hotshots and Archery shoot toward goals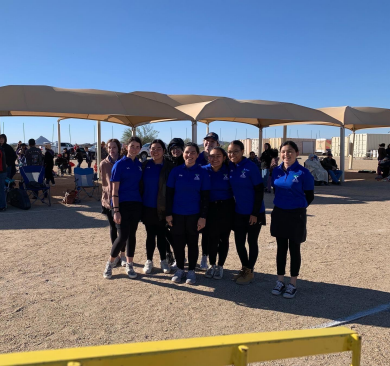 It is a rare occurrence itself for a school to have an archery team and a shooting team. Both are two overlooked sports in the world of athletics but Xavier is proud to have these two sports. 
The archery team is a multi-season sport at Xavier led by coach Kelsey Gerchar. This team has already built a solid reputation within the past few years. 
Last year, 27 archers went on to compete in state championships and won 3rd place in their division. This year, the team is practicing and preparing for upcoming tournaments.
 The team does its absolute best to publicize itself and show their rivals that they are a force to be reckoned with. 
This year approximately 40 members are on the team and they practice two times a week. Their competitions occur every two to three weeks. 
Archer Olivia Fisko '25 said that her biggest achievement on the team was participating in the November state qualifier and shooting a 281 in Bullseye and 280 in 3-D.
"Last year I was second in the November qualifier for 3-D with a score of 266 and meeting that score was my goal, but when I found out I exceeded that score it felt like my greatest accomplishment," Fisko said. 
Fisko also shared that she wants more people to be aware that archery is complex as it is 90% a mental sport and 10% a physical sport. 
The archery team has many achievements to be proud of but the Hotshots have many accomplishments, as well. This team has participated in the 3-D state championship and earned second place, and in the Bullseye state championship a third place.
Head coach Brian Trapp along with assistant coaches has instilled hard work and dedication to their athletes as they go into competitions. 
The Hotshots team shoots clay targets and participates in both singles and doubles trap shooting at tournaments. 
According to Elayna Pennell '24, to be successful in Hotshots one needs dedication to the sport and a thirst for improvement. She believes that since the team is all girls, it gives her and her team the opportunity to present their talents. In addition, she believes that the sport opens windows to learning how to safely use a gun.
Another team member, Kiana Beazley '24, shared, "The disciplines that go into the sport and the energy and excitement of hitting a clay bird is the best experience, especially after you hit the clay bird and you hear your team cheering behind and motivating you."
Most recently, Hotshots participated in a Fun Shoot Competition.  Jasmine Odgen '24 placed first in varsity trap and third in varsity skeet, while Riley Wood '23 won second place and  Monica Nitu '24 placed third, both in varsity trap.