Are you a Swiftie?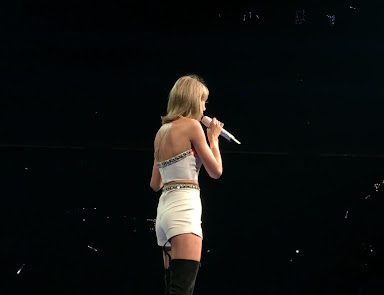 Which Taylor Swift album is your favorite?

Sorry, there was an error loading this poll.

Whether you immediately turn down the volume when her top-charters like "Shake it Off" and "Blank Space" play on the radio or you've screamed all 10 minutes of the lyrics to "All Too Well (10-Minute Version) (Taylor's Version)," we can almost guarantee you've heard Taylor Swift's music more than once. 

From her country debut at only age 16, Taylor caught the eyes (and ears) of a fanbase that would continue to grow over the course of all 12 of her album releases (including her re-recordings of "Fearless" and "Red"). 

Throughout her musical career, Taylor has broken records and then broken them again. 

In 2010, she became the youngest artist to take home the "Best Album of the Year" Grammy award for "Fearless," then won the same award again in 2016 for "1989," making her the first woman to win the award twice. 

More recently, her newest album, "Midnights," surpassed the success of all her other albums, de-throning "1989." Upon releasing "Midnights," Taylor became the first artist in Billboard history to occupy all top-ten positions on the "Billboard Hot 100." 

Which song on the Midnights album is your favorite?

Sorry, there was an error loading this poll.

"Midnights," as Swift shared, is a "collection of music written in the middle of the night, a journey through terrors and sweet dreams." It has a synth-pop sound and features upbeat hits like "Anti-Hero" and "Karma," as well as more mellow ballads such as "Question…?" and "Would've, Could've, Should've."

As a huge fan of "Fearless," I (Olivia) can say that the album highlights the innocence, firsts and fairytale feelings, while still keeping her old country roots. I've come to enjoy her newer songs such as "Paper Rings" off of her "Lover" album and "Sweet Nothing" off of her "Midnights" album which still capture the sweet and romantic feelings the same way "Fearless" did. 

After succeeding her much more reserved, yet raw, albums, "Folklore" and "Evermore," many fans weren't expecting "Midnights" to sound the way it did. "At first, I'll be honest, it wasn't my favorite," said junior Katie Watson. 

But, in the usual Taylor Swift fashion, "Midnights" grew on fans after the first listen. I (Grace) can personally say, as a big fan of "Folklore and Evermore," I was also surprised when the album opened with the synth-pop beat of "Lavender Haze," but I've come to love her newest album, especially tracks like "Would've, Could've, Should've" and "Snow on the Beach," which features Lana Del Rey's vocals.

For senior Eliza Livingston, however, "Midnights" was love at first-listen. She even dressed up as one of the tracks off the album for Halloween. Livingston was also a "Lucky One," and secured tickets to "The Eras Tour."

Taylor Swift is unique in the way she has ventured through a range of different genres throughout her career. Her roots are in country, which can be heard in her debut album as well as "Speak Now" and "Fearless." Her country influences merge with a more pop sound in her fourth album, "Red." From there, she dove fully into pop with "1989," after which she combined her pop sound with hip-hop influences in "Reputation."

Following "Reputation," she released "Lover," which was a hit among many fans, including Xavier guidance counselor and long-time Swiftie, Alexis Quintero. Her favorite album is "Lover." "That's my era," Quintero said. 

A shift in her sound is found in "Evermore" and "Folklore," in which she pulls back on production, and gives a more stripped-down sound. This sound, in conjunction with profound lyricism, gives these albums a very intimate feeling. "They're very special albums," Watson said.

Already a country fan, Quintero fell in love with Taylor Swift's debut album when she heard it for the first time on MTV. So when Taylor Swift went on her "Speak Now" tour, teenage Quintero was eager to get tickets. 

While at the concert, Quintero was given a wristband and told to stay after the show. To her surprise, she was invited backstage to hang out with Swift after the concert. She got a picture with Taylor and a signed poster, after spending a couple hours talking, dancing and having fun with her. 

Quintero said this was a truly unforgettable experience, and only made her an even bigger fan. Still, there are albums that aren't her favorites. 

"I just didn't connect with 'Evermore,'" said Quintero. Being a fan of Taylor Swift and her work doesn't mean just being an ardent fan of everything she releases. Taylor's music is unique in that its diversity creates something for everyone. Her albums range from country to pop to folk, and everywhere in between. 

However, she is met with criticism. From her involvement in various scandals and controversies to the "trend-hopping" across multiple genres, there are many reasons people have issues with Taylor Swift and her career. 

But Taylor Swift doesn't have to be a polarizing figure in the music industry. While there are die-hard fans who won't speak to her critics, there are also those who can't stand her supporters. 

Junior Leigh Vineyard, however, has a more moderate stance. "I still respect her work. She's just not my style of music," Vineyard said. She acknowledges Swift's talent as a songwriter and performer, but feels "she has overshadowed other phenomenal artists who deserve recognition."

Love her or hate her, there is no doubting the immense influence Taylor Swift has had on not only generations of music listeners, but on the entertainment industry as a whole.