Xavier Gators spend lunchtimes in new pickleball league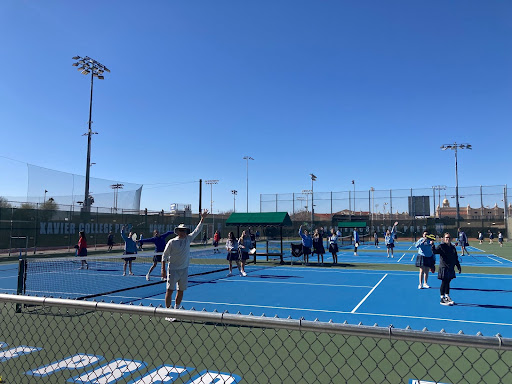 Pickleball at Xavier could be the start of something new across schools in Arizona. Could it soon become a club sport or even an AIA-sanctioned sport? Only time will tell. 
During the 2021-2022 school year, Xavier tore out the old tennis courts and replaced them with new concrete. The new concrete now incorporates regulation lines for pickleball courts along with the tennis lines. 
These new lines on the courts allowed lunchtime pickleball to begin. Coach Karl Behring and about 40 girls go out and play once a week to battle it out with friends. Ava Larkin '23 says, "It's a good way to be outdoors and out of the classroom to get fresh air."
Not only is it an excellent way to get some fresh air, but also a great way to get a little competitive. Mia Feix '23 appreciates this aspect of it as she says, "I enjoy beating all my friends, and it's fun to learn a new sport, especially when I'm good at them." 
Pickleball is played 2 vs. 2, so that is what most girls are doing in the Xavier pickleball league. All you need is one friend who wants to go play with you, or even go alone!
Behring seems to be one of the best parts of this pickleball league. Morgan Wubker '24 says, "I especially like Coach Behring; he's so funny." 
Behring says, "I love the game myself, and you can improve in pickleball so quickly, which makes it so popular." He enjoys teaching the game and seeing the girls grow every time they come out to play. 
Even though the sport is already showing success, Behring hopes it continues to expand as it is just starting up. 
This pickleball league gets anywhere from 10 to 40 girls each week, so he is sure that a team could easily be formed. "Pickleball could be a high school sport in three to five years from now," Behring says.
Behring has been around the athletic aspect of a school, as he was the former physical education teacher at Saint Francis Xavier for 10 years. 
Although there are rules and regulations in pickleball, at Xavier's lunchtime league, the girls seem to play their own way. Wubker says, "There are rules, but we play our own game with our own rules; that's why I think it's fun." 
Behring doesn't mind the girls having fun with it, and thinks that it is a good way to give the sport more attention.
Ella Schuster '24 says, "It is fun to play because it is something different to do during lunch with your friends."
Pickleball is a sport that is becoming more and more popular as all ages can play and enjoy it. Whether it is a group of high school students on a Friday night, a lunchtime league or a group of older couples on a Sunday morning, the sport attracts many. 
For those who haven't tried lunchtime pickleball already, this may be a time to grab a couple of friends and pick up some rackets. Behring would love to see more girls come out to play, any day.