Xavier celebrates Catholic education with another successful Catholic Schools Week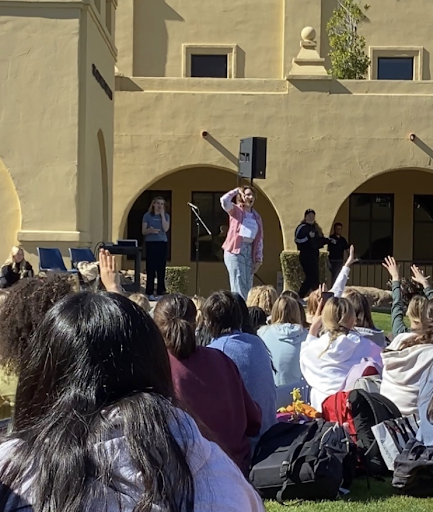 Which day was the most fun for dressing up?
Sorry, there was an error loading this poll.
Monday, Jan. 30 marked the kick off to Xavier College Preparatory's 49th Catholic Schools Week. A fun and interactive opportunity to celebrate the Catholic faith, Catholic Schools Week shows students' creativity and diversity through school-wide activities such as theme days, a lip sync battle, a dodgeball game and much more. 
Many students describe Catholic Schools Week as their favorite week of the school year because it breaks the normal routine and creates memories that can last a lifetime. 
"My favorite memories of the week were the senior vs. faculty dodgeball tournament and the lip sync battle, but especially the lip sync battle when everyone came out on the grass to sing along and watch," Holland Carey '23 said.
Carey was a co-chair of the organizing committee for Catholic Schools Week. "We came up with the themes as a group, deciding what we thought would be the most fun and what people could easily dress to." The committee's objectives were prevalent, coming up with themes that ranged from "100 Days Old vs. 100 Years Old" all the way to "Salad Dressing."
In "100 Days Old vs. 100 Years Old," a student could decide if she wanted to dress up as an elderly person, or a baby. For "Salad Dressing," a student could pick a salad dressing and dress up to that. For example, some students picked the green goddess dressing and wore all-green outfits with crowns.
But the committee also faced many challenges while organizing Catholic Schools Week. "We had to make sure the themes were easy to dress without having to buy a costume or anything extra," said Carey. She and the committee overcame this challenge by making sure the themes were special, interesting and could be interpreted in different ways. 
All this fun did not happen by chance, but was the product of the hard work by the organizing committee. "We worked on trying to make it a fun experience for the whole school. We came back from winter break and immediately had to do the final details," Carey said. 
Participants found themselves working hard to create innovative costumes. MJ Patton '23, for instance, even sewed part of their costume. 
"I really liked Holiday Day because I think it is really funny to try to go beyond what everyone else thinks," Patton said. 
For freshwoman Delaney McHale, this year was her first time celebrating Catholic Schools Week. Although her previous school had spirit weeks a few times a year, they were not nearly as fun or interesting as Xavier's."I really enjoyed planning all of my outfits with my friend-group. I would say that it did bring my friend-group together more."
For some students, this was their last chance to celebrate Catholic Schools Week. Patton, a seasoned veteran, participated in the lip sync battle every year and made sure she had excellent costumes. 
"As soon as I heard the theme I was thinking about it. I was counting on a cowboy day so I always have a cowboy outfit at the go," Patton said. Luckily, she was able to work her cowboy outfit into Salad Dressing Day with a creative spin on "ranch dressing."
Seniors have advice for students participating in the Catholic Schools Weeks to come.
 "Enjoy the different activities offered during Catholic Schools week. These activities are unique to Xavier and are really fun to attend," said Annie Dawson '23. 
Jayden Murray '23 says, "Make sure to dress up because when are you going to get another chance to do this after high school?"
Overall, students agree that Catholic Schools Week was a great success. It is not only a symbol for the unity amongst Catholic education, but also a way to show the uniqueness of each student's character. If you missed participating this year, get ready for the 50th anniversary of Catholic Schools Week in 2024!