Xavier's Soccer wins on & off the field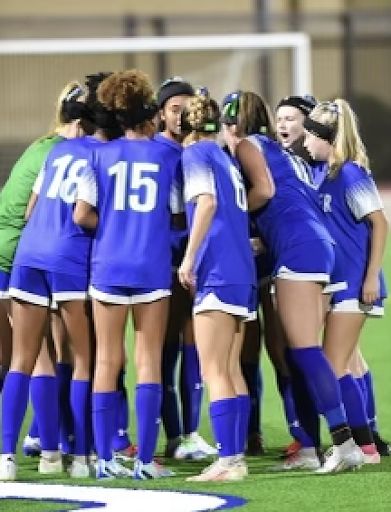 Xavier's three soccer teams have made history these past few years. With only three losses out of 36 games for all three teams, it is safe to say that Xavier's soccer teams are the ones to beat. 
The varsity team has had an awe-inspiring season. They stay undefeated with wins against tough teams like Basha and Perry. 
If this streak continues, they might be on their way to getting their third state championship in a row, which has yet to happen since the 1990s. 
The JV and frosh/soph teams have similar records, with only two losses from JV and one from the frosh/soph team.
These wins do not come without hard work. The girls practice anywhere from four to five times a week, depending on their game schedules. These practices include drills, practice games, and much more, all directed by Coach Barb Chura.
In their normal practice time, players work on moving the ball as quickly as possible down the field. However, as the season has progressed, the team has shifted its focus to how accurately players can get the ball down to the goal. 
Junior goalkeeper Kate Willmering states, "I think our team was able to remain undefeated because of our great team chemistry on and off the field. Although our drills are tough, we all work hard which leads to our success."
Although a lot of hard work does go into the season, the excitement that comes with being on the field on game days is unbeatable. 
Senior Holland Carey states, "Stepping on the field is such an exhilarating experience every single time. I can't put the adrenaline rush into words, but being able to represent the school and have something to play for is truly motivating. The energy of the team, the environment and the feeling of being on the field never get old!"
However, the soccer teams would only have made it this far into an immensely successful season with hard work from its seniors. Seniors include Bailey Wolcott, Isabella Leonard, Collins Entz, Eva Allen, Holland Carey, Larkin Thomason, Savannah Angell, Taea Eberhardt, Tatum Kramer and Tessa Montanile. 
These seniors have not only committed themselves to Xavier soccer but also to various universities and colleges around the nation: Leonard at Notre Dame, Carey at Northwestern, Allen at Arizona State University, Montanile at UC Santa Barbara, Thomason at Mercer University and Angel at Ohio Dominican University. 
All of these schools have excellent athletic programs, all in Division 1 or 2 for women's soccer. Each player is ready for the years to come and the opportunities that will arise during their college years.
Leonard mentions, "I am extremely excited to be a student-athlete at the University of Notre Dame for the next four years. Soccer is a big part of my life, and I'm excited to play at the highest level (D1 collegiate soccer). I know it won't be easy, but I'm ready to grow as an athlete and as an individual through my character."
Their first round of state playoffs on Feb. 15 continues their impressive record with a 7-1 win against Corona Del Sol High School. They encourage everyone to come out and support their next round against Desert Vista on Saturday, Feb. 18!