Rower rows to greatness!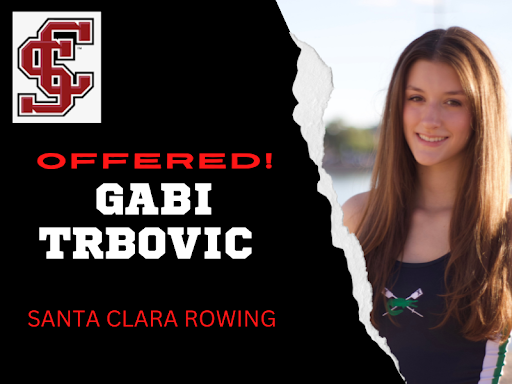 Crew at Xavier College Prep is a well-known sport for its competitive athletes who have achieved success because of the sport, like Gabi Trbovic '23. 
Trbovic, one of crew's stars, says that crew was not always her first choice of sport.
"I didn't know about rowing until eighth grade and still didn't take any interest until freshman year," Trbovic said.
Her twin brother encouraged Trbovic's interest in the sport, encouraging her interest in crew. 
Trbovic is also a member of the Xavier varsity basketball team, which can be tough, considering she also has to balance school.
"I just take one thing at a time and focus my attention on where my attention is needed," she says. 
Trbovic is on her way to college and has her eyes on Santa Clara University, where she will be continuing her rowing career. 
"I decided on SCU because of the welcoming team and staff. The school stood out from its people, yes, but also the coaches were super nice and had such welcoming personalities," said Trbovic.
Regarding her parents, Trbovic says, "My parents are proud that I have so many opportunities for college because of rowing, that I might not have had without it."
Trbovic's mother, Sofia Trbovic says, "I am proud of how far my daughter has pushed herself. She will do wonderful things at SCU." 
Currently, Trbovic continues her studies at Xavier while excitedly waiting for her signing in April "whenever that comes," Trbovic said.
Trbovic's friends have lots to say about her new journey at SCU, and the ways she's impacted their lives over the years.
"Gabi won the fastest 2k time out of the whole team last year. I have no doubt in my mind that SCU will be just the place for her," said Elyse Guittierez '23. 
"I think it'll be tough for Gabi but it's nothing she can't handle. A new school means new opportunities, along with competition," says former teammate and alumna Kate Seeley. 
Erika Verduzco '23, another teammate says, "I love it when Gabi and I practice together because she always encourages me to try my best.