Successful Xavier alumnae talk about Xavier's influence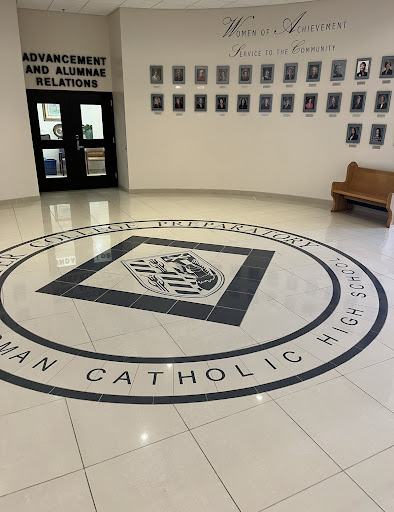 Vivian Amoia, Staff Writer and Best of SNO award-winning writer
February 24, 2023
"Having outstanding and talented alumnae reflects positively on the school and encourages families to send their daughters to Xavier," said Polly Fitz-Gerald, head of alumnae relations at Xavier.
Attending high school at Xavier College Preparatory has an immense, positive impact on students. The high standard of education and long-lasting relationships remain with alumnae for the rest of their lives.
"Xavier is the foundation for everything. It keeps you so motivated and on course, and the support you have there is amazing. When you have that kind of structure, and you are around incredible educators who really expect excellence and a high level, that becomes your norm because those are the formative years of your life," said Caroline McGroder, Xavier alumna.
McGroder is a wrongful death and catastrophic injury attorney at Beus Gilbert McGroder and she has worked there for over 12 years. Following Xavier, she graduated from Creighton University in Omaha, then she moved to D.C. and worked for Senator John McCain on his senate staff for three to four years. 
After moving back to Arizona, she decided to obtain her law degree. While in law school she began working for Gallagher & Kennedy, a law firm in Phoenix. Before her current job, she was prosecuting child sex crimes for the government, and earlier in her career she was prosecuting war crimes and crimes against humanity overseas. 
While at Xavier, McGroder felt that Sister Joan Fitzgerald, Xavier's principal at the time, was a constant source of motivation and encouragement.
"Sister Joan holds a special place in my heart. She saw something in me that I didn't see in myself," says McGroder.
Although the academic and athletic rigor at Xavier is memorable, the highly intelligent teachers, administrators and coaches become the most prominent sources of inspiration.
"I give all the coaches and the classes that came before me credit for teaching me what it's like to be a team and to strive for excellence," said Emily Adams-Knight, Xavier alumna.
Adams-Knight received a full-ride scholarship to the University of Southern California for volleyball. During her time there, she won two national championships and made it to the Final Four three times. She was a three-time First-Team All-American, and, most importantly to her, she was a two-time First-Team Academic All-American.
After graduating from USC, she moved to Atlanta and spent nine years working for Mizuno, a Japanese sports apparel and equipment manufacturer, and she ran the volleyball department there. She then worked for Home Depot for six years in retail merchandising for all Home Depots across the country.
She just recently moved back to Arizona and started working at PetSmart and is a senior buyer in its health category. She does online pharmacy, merchandising and anything medical for pets. In doing so, she has recently developed a new definition for success.
"Building a team around me that is cohesively going after a collective goal is success to me," says Adams-Knight. 
Xavier teaches students not only how to work as a team, but also how to be a leader, which has impacted all of the successful alumnae. 
"The young women at Xavier have the groundwork that is necessary to become great leaders. In order to be a great leader, you have to be a good human being, you have to have empathy, humility, respect for all human beings, and a good moral compass," says Dr. Anna Burke, Xavier alumna.
Dr. Burke is a geriatric psychiatrist and a dementia specialist. She is the director of The Alzheimers and Memory Disorders Program at Barrow Neurological Institute in Phoenix. She also is a clinical researcher, meaning she has run about 100 different clinical trials over the course of her career focusing on finding new therapies for alzheimers and dementia. In addition, she is a professor at two medical schools, University of Arizona and Creighton University. 
Following her graduation from Xavier, she went right into medical school, enrolled in a six-year pre-med and medical program. She started in internal medicine, and did residency training at Mount Sinai in New York, doing primary care. She then switched to psychiatry with the intent to go into geriatric psychiatry. She did a residency in Hartford, Connecticut at the Institute of Living, and then did a fellowship in geriatric psychiatry at Harvard. Following this, she was recruited to Arizona.  
"Xavier teaches young women how to think, not what to think, but how to think. [It teaches them] how to reason, take information and all of the facts that are available in order to come to their own conclusions," said Burke.
This life skill that she obtained from Xavier has allowed her to further her passion and become a leader in her community and around the world.
Burke has won several awards including a Healthcare Leadership Award in 2019, a Phoenix Top Doc by Phoenix Magazine and an Achievement Excellence to the Community by Xavier.
"Success is different for everybody. Success is not power or money. In reality, success is being able to do what you love, finding peace in your path and ultimately being true to yourself. Being able to help others and to be a light in the community is a success," Burke said.
Burke also mentioned boot camps and internships at Barrow for high school students who are interested in careers in medicine. These programs allow students to explore neurosciences and anything from basic sciences to surgeries.