Soaring through the past to set records for the future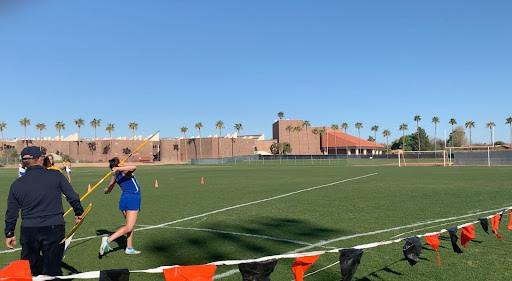 New trophies won, state titles to add to the shelves. Barriers have been obliterated with effort and determination. Past achievements are surpassed as the way of the future is paved.
Senior Callie Ehmann holds the fifth longest javelin throw in school history. Javelin is a sport in track where an athlete throws a long spear the furthest distance she possibly can. 
Ehmann's record is 88 feet 4 inches. She began as a sophomore achieving this record in April of 2021.
"I felt like I was one with my mind, body and God. I was throwing not for me, but for Him. It felt so free. Everything had clicked and it was effortless. I put my whole strength and heart into that throw and everything worked out," Ehmann said.
Ehmann was greeted as her teammates ran toward her giving big hugs and her coach giving a big high five as she stepped off the platform. 
This achievement was extra sweet because this was not only the last throw of the day, but the last throw of the season. 
This season, discus is Ehmann's new challenge. Ehmann continued javelin last year as a junior but she also began discus. She is fully focused on discus this year and looks forward to setting a record in this event.
Ehmann is an inspiration to fellow teammates. While she has set the bar extremely high in javelin she challenges her teammates to work for higher and different goals. 
Madigan Moran 23, Xavier's track team captain says, "Even though track is a competitive sport it is important to be proud of our personal achievements and records, as well as to cheer on our peers. Even if it's not [one's own] personal win, it's still a win for all of us."
Girls such as Ehmann are raising bars to new heights. Only time will tell if she can post new records.
Stay tuned to see what new heights the Gators will reach this season by supporting track and field as meets begin the first week of March.