Flag football reaches in a new direction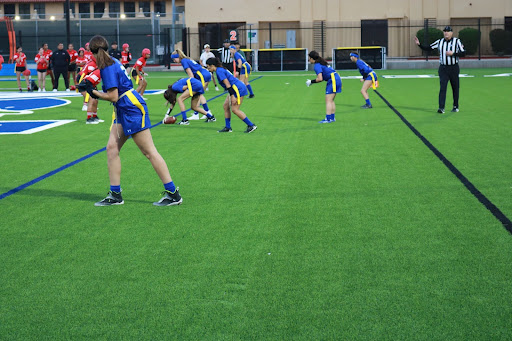 As the seasons grow and change, new and old traditions grow too. One new tradition at Xavier is the flag football team.
Flag football made its debut for girls in Arizona this past fall. Xavier started its first team this spring, consisting of 25 players. 
The team's head coach Michael Patterson coached with Brophy's football team before coming to Xavier. He is assisted by coaches Matt Ferrelli and  Lorenzo Alexander.
On March  9, Xavier was voted to be the Arizona Cardinals game of the week. Unfortunately, the Gators fell short to the Hamilton Huskies, suffering their second loss.
Two weeks later, though, they turned that losing streak into a win, defeating Agua Fria on March 21 with a score of 31-20. 
"I'm happy this new tradition began, but also sad because for us seniors it is the first and last year we get to be a part of the flag football team," Jenna Burch '23 says.
"By allowing us to play flag football, not only have we found a new love for a sport but a new love and respect for players, coaches and everyone who supports this new chapter at Xavier," added Maria Dominguez '23.
These students have put in extreme dedication and show exemplary moderation in their everyday lives. They practice nearly every morning from 5:45-7:15. 
Cassie Worth '23 said, "I love my position as wide receiver and I love running plays during the game."
Worth has scored three touchdowns so far this season and plans on attaining many more wins in the following games for the remainder of the season.
The team is hyped and ready to prove the championship trophy is theirs for the taking this season.
If the Gators have a chance to play Hamilton again they believe they could turn their loss into a win, and show the Huskies they have some real competition.
"I have three words. Never. Back. Down," said Molly Caris '23.
Flag football's next game is April 4, vs. Mountain Pointe. Support the Gators as they pave the way for the future in girls flag football.