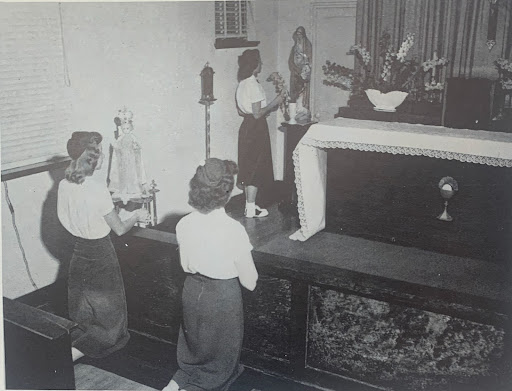 The iconic blue plaid skirt paired with either a white or blue-collared or Oxford shirt are the essential staples to the Xavier uniform that students know too well. With the simplicity of throwing on a uniform every day, it's easy to overlook the decades of evolution that has occurred to achieve the current uniform.
Former secretary of state, and Xavier alum Betsey Bayless class of '62, describes the attire of the past.
"The uniform was a classic navy blue suit with white trim. We wore a Ship 'N Shore blouse under the jacket. There were no exceptions. The blouse had to be Ship 'N Shore. We also wore a clip on a navy blue bow tie with bobby socks and navy and white saddle shoes," Bayless says. 
She explains that the material of the uniform items required it to be dry-cleaned. Today, students simply toss their polos and skirts into washing machines to later be ironed. 
Like Bayless, Mary Pat Honey-Curtis graduated from Xavier in 1962 and delivered speeches for Traditions Day twice, covering Xavier life in the 60s. She remembers wearing a navy blue straight skirt every day and a beanie for special occasions like church. Honey-Curtis acknowledges the limited options students had to express themselves.  
Honey-Curtis, however, enjoyed the simplicity of wearing a uniform. It created a sense of sisterhood by uniting everyone through the clothing they wear each day. Not to mention, uniforms cut down on distractions as students weren't comparing what they have or don't have with other students.   
Today, students have more independence in choosing nail polish colors, shoes, socks and makeup, within reason. Last school year, it was even announced that students could wear high tops. However, Bayless stresses that when she was a student there were "no variations" in the dress code. It was simple: no nail polish or makeup, and white socks and saddle shoes were mandatory. 
Bayless recognizes the responsibility of wearing a uniform, saying, "It identifies Xavier girls. When out in public wearing the uniform you represent Xavier, so it's important to be respectable." 

Sorry, there was an error loading this poll.
Theology teacher (and member of the class of '97) Gina Iker explains that she had the same skirt and nearly identical polo options as the ones today. However, Gator Gear, Xavier's on-campus spirit shop, was not yet established. Iker explains that students either received hand-me-downs from sisters or friends, or bought new uniforms from Dennis, a uniform distributor.
Iker explains that putting on a uniform puts students in a focused mindset. "During Covid, if you were attending class in your uniform shirt and pajama pants, you may not have been as attentive as if you were in full uniform. Being in uniform reminds us that we're here to study," Iker says. 
Head of alumnae relations and alum Polly Bayless Fitz-Gerald wore a uniform all her life until she graduated from Xavier in 1968. "We had fewer choices than you have today. Freshman and sophomores could wear blue sweaters whereas the juniors and seniors wore gold ones. Those were the only sweater options. We wore a white round-collared polo with loafers," says Bayless Fitz-Gerald.
Bayless Fitz-Gerald appreciates today's wide array of sweaters and sweatshirts with various designs and clubs imprinted on them, along with the more inclusive range of shoes. She explains that more options for sweatshirts and shoes show individuality and creativity.
She remembers that earlier classes didn't have to wear "uniforms" until the end of September. "The jackets were hot in the summer, so they wore them in the middle of the school year," says Bayless Fitz-Gerald. During the months without uniforms, the students wore long dresses.   
Outside of the classroom, Bayless Fitz-Gerald believes that the wearing of a uniform will help Xavier students to better-evaluate their clothing choices for future job interviews to ensure they are presenting themselves well.
Despite the numerous differences between the uniforms of the mid-60s to now, the tradition behind it will always remain the same. 
"It (the uniform) creates a sense of unity and consistency of dress. Nobody is competing with each other because we are all dressing the same," Bayless says. 
While students may add individual touches to their uniforms and accessorize with sweaters, shoes and jewelry, they all share something in common: their pride in the plaid.