Lamar-Reneé Bryant: coaching for the win
An interview with Lamer-Reneé Bryant, Xavier's remarkable volleyball coach.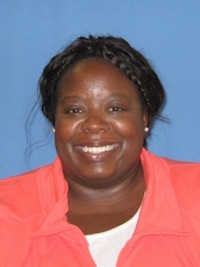 Hang on for a minute...we're trying to find some more stories you might like.
Lamar-Reneé Bryant is the Head Coach of the Varsity Volleyball team at Xavier. She has been coaching at Xavier since 2004 and was the 2015 National Federation of State High School Association Coach of the Year for Arizona. Here is a quick interview with the coach herself:
Q: What is your favorite thing about coaching volleyball here?
A: My favorite thing about coaching in general is that I usually coach young women and I love for them to find the power in their internal voice. I'm a firm believer in self-empowerment and I think you can get that through sports. Working within a team constraint helps you learn about yourself and grow and realize that the power always lies within you.
Q: How does it feel as a coach to have your team rank 6th in the nation and place 2nd in the Durango classic?
A: It's really exciting. I'm not one to get too caught up into rankings, but, when we perform at a high level, no matter what the outcome is, it makes me excited and it makes me feel good that the girls are listening and buying into the system and working together and realizing that their greatest gift is working together with each other. Xavier is a wonderful school and we get a lot of national recognition, so I'm excited when the girls perform well and people take notice.
Q: What do you hope to accomplish this year as a coach and as a team?
A: As a coach, I hope that the girls continue to listen to not only my voice, but to the life lessons that can be learned within athletics. There are so many things that are valuable lessons that are learned that you can take far beyond your playing years at Xavier and even in your collegiate years. The power of a team and the power of finding your voice is one of the most important and gratifying things that I think you can ever have as a young woman. Obviously we have high goals and we want to be state champions, and I think that this group can do it, but we definitely just have to keep powering through and making good decisions and working together.
Q: Do you do anything interesting/special outside of school?
A: I coach a lot of volleyball, high school and club year round. But, in my spare time, I love to travel with my family. I have my first niece, who is six months old. She's beautiful and I love spending time with her. I also love to play tennis. I am an avid doubles tennis player. I think it's fun and it gets my competitive juices going.
Q: What makes coaching at a school different than coaching at a club?
A: I'm a firm believer in coaching for high school, because it's so much about school pride, playing in front of your teammates, and all the wonderful things, like being on the announcements and getting the whole school behind you. We are so fortunate, because last year in the finals I felt like there were like a thousand people in the stands cheering for the Xavier Gators. As a coach, it just makes me proud and it makes the girls, who work really hard, feel good when people come out and support the school. It feels like such a strong community. That's why I love coaching high school. There's so much school spirit and a lot of fun. You're not just playing for yourself, you're playing for the whole school.