Winter wins to spring strives: the transition of sports seasons at Xavier
With a great winter sports season, the Xavier community has high hopes for spring sports.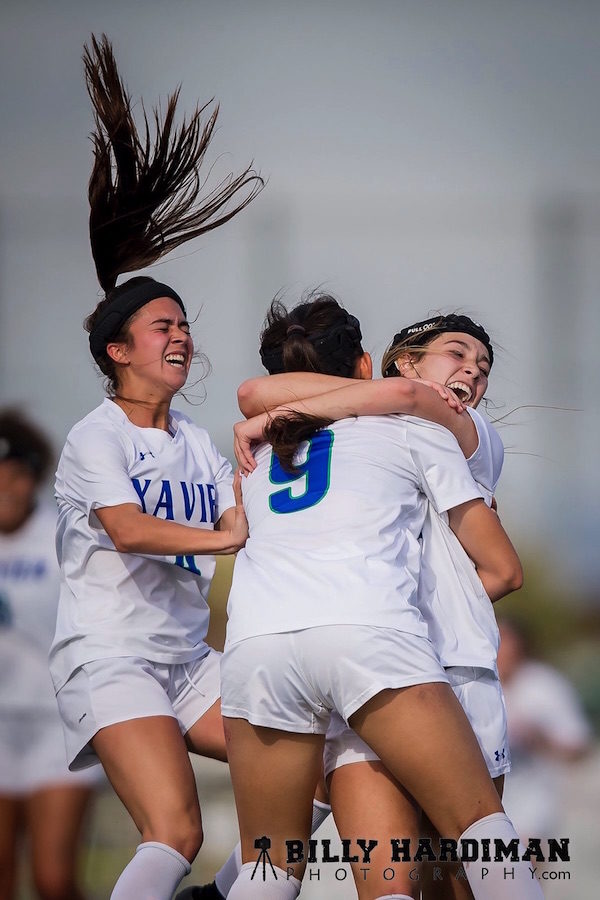 As we transition from third quarter to the final quarter of the school year, Xavier athletics also transitions from winter to spring sports. This year in particular has been a great season for winter sports, getting students excited for what's to come with spring sports.
The winter sports at Xavier include basketball, soccer, and spiritline with each of these doing fantastic in competitions this year. Xavier basketball was ranked seventh in the state and advanced to State. Though the team lost to Mountain Pointe High School, ranked tenth in Arizona, the players showed an amazing effort and sportsmanship in their games. Xavier soccer lost no games this season and won their ninth state soccer title against Desert Vista High School. Junior Mady Chait and sophomore Kyla Ferry scored a point each in the state finals to secure the team's victory over the Thunder, who ranked fifth in the state. Xavier spiritline won their cheer state championships and will advance to nationals in Anaheim, California on March 24th through the 26th. Overall, Xavier did absolutely incredible this winter sports season due to the fierce commitment of the players and dedication of the coaches.
This spring sports season is full of hope for more state championships with sports like beach volleyball, lacrosse, tennis, softball, and track and field being practiced currently. Xavier beach volleyball has won five straight state championships from 2012 and with new courts now open for practice and games on campus, the Xavier community is hoping for another win. Last year, Xavier lacrosse ranked third overall in the state and made it to the Arizona semifinals for the sport. Xavier tennis placed second in the state championships last year after a lost to Mountain View High School, but has won 18 other times, so players are optimistic about their chances in the finals this year. "There are so many talented girls on the team that I'm highly optimistic about this endeavor," junior Katie Shyman said, "I personally believe we have the best in Arizona, as there is an array of opportunities: all the way from rookie team to the top 6 girls who play on varsity."
Xavier softball ranked eighth in the state last year with a total of 20 wins and five losses. This year, the varsity team currently has three wins and six losses. Xavier track and field placed seventh out of 37 teams at the state championship meet in 2016 with now-graduated Tessa Weiss taking first place in the 1,600- and 3,200-meter races. "I'm really excited for this year," senior Maddy Todd said about track and field, "I hope our team can place even higher at state than last year."
Xavier's athletic tradition of greatness was seen this year in winter sports and hopefully will continue with spring sports. The Xavier community is rooting for all of these spring sports athletes and wishing them the best on their way to victory.