The rise of the resistance
Student activists discuss resisting in the aftermath of white nationalist rallies
Hang on for a minute...we're trying to find some more stories you might like.
Xavier students were among the protesters outside the building where President Donald Trump's rally was being held on Aug. 22.
Student activists like junior Abbey Alexander and sophomores Claire and Sarah Nelson protested Trump's campaign-style rally to resist the spread of racism and bigotry.
Alexander, who captured photographs of protest art and posters, said, "I think everyone has a different way of taking action. For me, it was taking my camera to the protest in Downtown Phoenix."
"By taking pictures of all the anti-hate signs, and talking to the people holding them, I felt like I was doing my part," Alexander said.
"It really shouldn't be about politics at all," Alexander said. "It's just basic human rights and equality."
In Charlottesville earlier this month, a "Unite the Right" rally was organized in response to the planned removal of a statue of Confederate General Robert E. Lee.
At the rally, which was a hotbed of racist and nationalist rhetoric, three people were killed and many more were injured. One of the victims was counter-protester Heather Heyer, who was killed in a vehicular assault.   
Claire Nelson explained that despite the violence in Charlottesville many were hesitant to label the protesters as "extremists or terrorists."
Nelson noticed that people were also "edging around labeling people [the protestors] as Nazis."
"These people were literally Nazis," Nelson said, "considering they were carrying around Nazi flags."
Sarah Nelson said,"We shouldn't be giving them [white nationalists] softer words like the 'alt-right.' We have to acknowledge that they are doing really dangerous things."
According to Vox, protesters in Charlottesville, who were carrying tiki torches, neo-Nazi paraphernalia and Confederate flags, could be heard chanting white supremacist messages of hate and racism such as "One people, one nation, end immigration," "Jews will not replace us," "White lives matter," and "Blood and soil."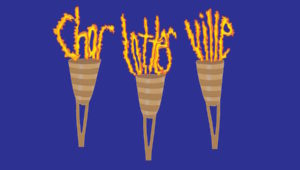 Kelsey Kurz
Alexander called the exhibitions of hate and racism in Charlottesville "striking."
"But what was equally as unsettling for me was that people were acting like the whole situation was a political issue," Alexander said. "A lot of people thought of it as a touchy subject, and didn't want to speak up about it. I just kept thinking, it's really not that complex. One side is racist, the other side is not."
After the white nationalist rally wreaked havoc in Charlottesville, the resistance focused efforts on counter-protesting rallies held in multiple cities, most notably Phoenix and Boston.
"
[White supremacists] call for division and hate. They don't call for unity and love. And to combat that, we must do the exact opposite."
— Sarah Nelson
Crowds of counter-protesters were at the rally in Boston to resist white supremacy and hatred like Alexander and the Nelson sisters did in Phoenix.
According to the Phoenix New Times, Phoenix's Democratic Socialists of America chapter, AZ resist and Arizona State University's Students for a Democratic Society chapter were among the groups leading the protest at the campaign-style rally held by President Donald J. Trump in Phoenix on Aug. 22.
These groups joined in support of the Puente Human Rights Movement, an organization that "fights for undocumented immigrants" according to the Phoenix New Times.
"They [white nationalists] are trying to divide us," Claire Nelson said. "We are a nation made up of people from everywhere and we don't need white supremacy messing that up and trying to separate us when we should really be a United Force of AwesomenessTM [sic]."
"We also need to focus on education," Sarah Nelson said.
These issues arise out of ignorance so it is important to understand what is going on in the world, according to Nelson.
"We are citizens of the world and we all impact each other," Nelson said. "And although something that's 2000 miles away may not seem like it is impacting us, it does send shockwaves and spreads an attitude and a tone and a mood."
"When people refuse to talk about a hateful thing, again it will send tones like 'Okay, no one spoke out about them, it's acceptable to spread hate,'" Nelson said. "And it's important to really stand up and say 'No, we cannot be ignorant, we cannot spread hate.'"