Grandparent's Day at Xavier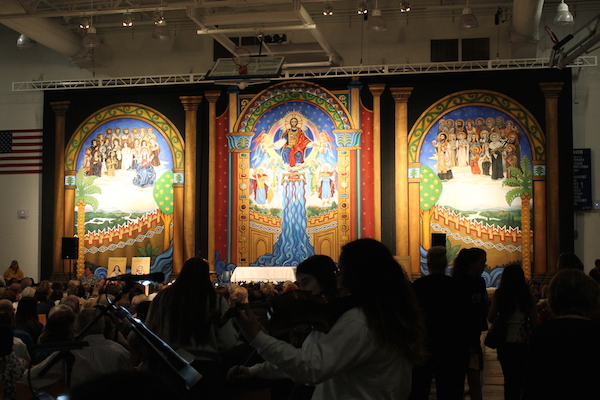 One can never be "too cool" to bring her grandparents to school. Grandparents are interested in their grandchildren's lives and want to know what their normal day looks like. Here at Xavier, Grandparent's Day is a special day for the baby gators to show off their new school, celebrate Mass and enjoy the company of their loved ones. This year, Grandparent's Day fell on Oct. 6, 2017.
As a Catholic school, Xavier strives to show its outstanding sense of Catholic identity. That is why Mass is such a big part of Grandparent's Day. After celebrating Mass in the incredibly decorated Activity Center, the frosh headed over to Founder's Hall for some breakfast treats.
Tami Harris, grandma of Ashten Wheeler 18', said "This day was so special. It was very nice to be able to spend the morning my my granddaughter. It was wonderly put together and was filled was such joy. The tapestry that was in the activity center was so beautiful and I really enjoyed listening to the choir."  
The grandparents met other grandparents while the gators told them about Xavier. The freshwoman made sure to have their hair looks nice — because we all know that the grandparents always want pictures. But can we really blame them? They are so proud of their granddaughters and love them so much. They are willing to get up early, get dressed up and come to high school again.
My grandma has our picture from this day hanging on her fridge. She has even asked me if she could come again, even though I am not a freshman.
My grandma and grandpa knew about this event before I did, which shows that they were very excited to spend the day with their granddaughter.
At first I was a little skeptical about having them come because I did not want them to "embarrass" me. After getting over myself, I invited them to come and ended up having an amazing day. For weeks my grandparents were talking about how gorgeous Xavier's campus was, how much they enjoyed meeting my new friends and how much they loved celebrating mass with me.
This is a special day for both students and their grandparents. These are the days to cherish. Maybe one day the students will be coming back as grandparents…