Alumna Katie Zeches speaks at the annual Father Daughter Mass and Breakfast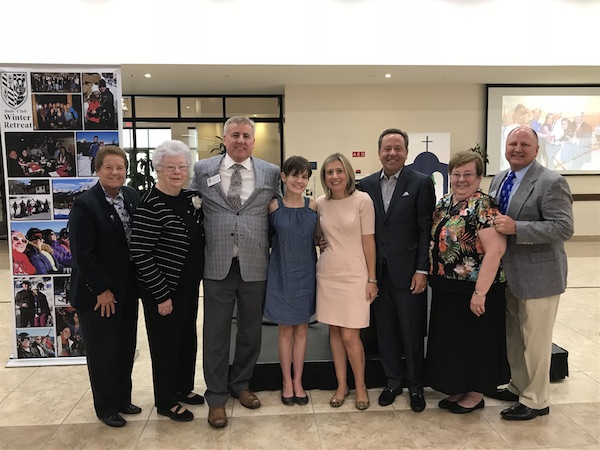 The Father Daughter Mass and Breakfast is an annual tradition celebrated by dads and daughters of all classes at Xavier. On Oct. 7, 2017, a beautiful ceremony was celebrated by Xavier's chaplain, Father Kevin, in the Chapel of Our Lady. Leaders of the Xavier Dad's Club and their daughters were given the opportunity to profess the readings and bring up the gifts for the Mass.
Catholic or not, the Mass was a beautiful way for the Xavier students to spend time with their father. After the Mass, the congregation was moved to Founders Hall for a breakfast, accompanied by a guest speaker, historically a Xavier alumna speaker. This year the speaker was Katie Zeches who graduated from Xavier in 2001, then attended the University of Arizona to earn her undergraduate and graduate degrees in education.
Katie commented in her speech, "I received two master's degrees, and neither of them were as hard as completing Xavier." She felt that Xavier prepared her for the real world challenges that she came to face. Participating in Key Club, National Honor Society and Student Council during her time at Xavier helped her to become a better woman and form her Catholic identity as an active member of the Church.
Katie moved to the Bronx in New York to work for Teach For America, which gave her the opportunity to teach children who had little financial support in their life. A few years later, Katie moved back to Phoenix to be closer to her family. Katie then went on to talk about the special bond she had with her father. She mentioned that when she was five, her father would tie a string on both of their fingers from across the hall so she would know that he did not leave when she was sleeping. When she was 10, he built her a stage in her backyard for her performances. When she was 15, he taught her how to drive. When she was 27, he walked her down the aisle. Now, Katie's fourteen-month-old son's middle name is after her father, Francis James.
After Katie finished her speech, her father, James, came up and spoke about their connection while attending the Xavier Welcome Barbeque, their own Father Daughter Mass and the annual Dad's Club Ski Trip. He felt that Xavier gave Katie a "unique and special" experience that no other high school could offer. Katie now works as the vice principal for Saint Thomas the Apostle in the diocese of Phoenix. After the breakfast, Katie was able to answer a few questions about her experience at Xavier.
What was your favorite year at Xavier?
"Oh by far my senior year, it was the most special."
What was your favorite class while at Xavier?
"AP Psychology."
What was the most inspiring moment while working in New York?
"[The] kids are so special to me, just seeing them be able to read made me happy."
How do you think Xavier prepared you to be a vice principal in the Diocese of Phoenix?
"Xavier got me to focus on an education discipline for my students, and allowed my to look for ways to inspire education within the kids that I teach."