Buck-a-sweans Wednesdays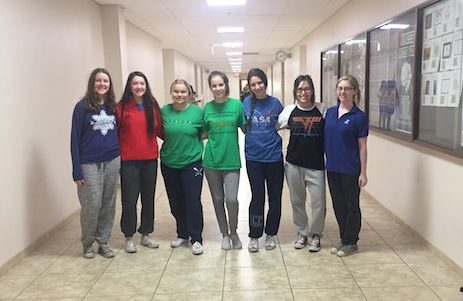 The Xavier community has "buck-a-swean" days to raise money for people in need. On these days, if a student pays a dollar they may wear sweatpants or jeans with a Xavier shirt. Recently, there was a buck-a-sweans in support of Hurricane Harvey. Xavier had a buck-a-sweans on Oct. 4 to raise money for each class to have their own brick on Winsor Way. It was very successful with many students dressing down in sweatpants or jeans.
Not only do we have these days to raise money for Xavier but also for the community at large. Many of the buck-a-sweans are for local organizations. There are so many people around us who need our help. Xavier uses buck-a-swean days to help these people.  
Senior Alexia Knapp said, "I think buck-a-sweans is amazing for multiple reasons. One, I can just roll out of bed in the morning, and because it gives us a chance to donate to a cause that we probably wouldn't have otherwise. It gives us that opportunity to participate in something larger. It encourages the girls to be involved."
Buck-a-sweans costs just one dollar to participate. Plus you can be comfortable all day in your sweatpants or jeans. The Xavier students get to wear their pants and the local organization is given the profits from the day. It is hard to see why one wouldn't participate.
Dean Macrina said that, "Buck-a-sweans is a win win for our Xavier girls, but mainly for our charities." Buck-a-sweans is a great opportunity for Xavier students to help those who are in need.