NHS X-am warm up prepares students for finals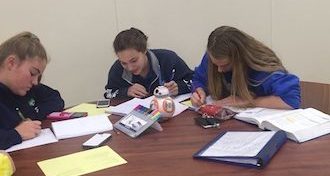 During the holidays it is important to give back to the community. Here at Xavier there are many opportunities for giving back. The canned food drive, buck-a-sweans and the X-am warm up are a few of these opportunities. The X-am warm up, named after Xavier with the infamous "X," helps students prepare for their finals. Freshman Andrea Kotlarz attended the warm up and said, "I really appreciate all the help other students gave me."
This is a great way to get involved in the Xavier community. A student can help someone else with something she already knows and even gets a free slice of pizza! This is the perfect way for a student to get into the holiday spirit by helping others.  
Freshman Isabella Stenzel said, "All the tutors helped me so much."
The students who volunteer their time to help their fellow classmates are truly showing what the Season is all about.