Four years of sports, advice from the seniors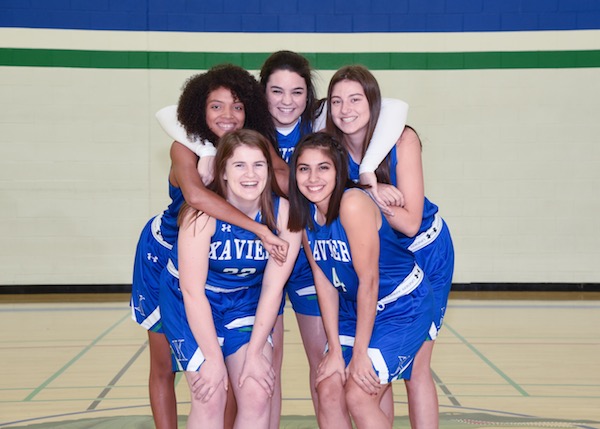 Sports and athletics is a huge part of the student life at Xavier College Prep. From the moment one takes a step onto campus, they may see the large variety of state championships and national titles that are held by various sports teams.
Xavier prides itself in the outstanding athletics and extracurricular activities that are offered around campus. One of the first things that students hear on the announcements each morning are updates from clubs and sports, which encourage students to participate in them.
As a freshman it can be very intimidating to try out for a team and be surrounded by the upperclassmen. It is also difficult to remain confident but also to stay humble. Xavier has sixteen teams that are open for tryouts during the fall season, six during winter and nine in the spring. Xavier seniors share some advice to their younger counterparts. 
Despite the obvious athletic competition that these sports create, they also form friendships and memories. Senior Lanie Wagner, who is committed to play volleyball next year at Lipscomb University, shared that, "Even if you're hesitant to try out because you think you won't make it or you're nervous, just do it. XCP athletics gives you so many friends and memories you won't forget."
Although it is not necessary to have prior experience in whatever sport you are interested in, it is helpful. Many girls have been playing on club teams in preparation for the highschool season.
Basketball player, senior Montana Oltrogge, Idaho State University Commit, says "If I were going to give advice to a freshman who wants to tryout for basketball, I would say that they shouldn't be afraid. It may be nerve racking to try and compete against upperclassmen but if you  believe in yourself you will do great! Make sure that you go into tryouts ready to out work everyone and give 110% effort every time you step on the court because that is what is going to grab the coaches attention. Always have fun!"
Senior Kristiann Ferrara has played softball all of her four years at Xavier and has some great advice to share with the underclassmen. She says "Don't be scared to try out. Just go for it and do you best, that way you will know you gave your all."
Do not let the fear of failing turn you away from trying out for a school sport.