Seniors smile for solo and group shots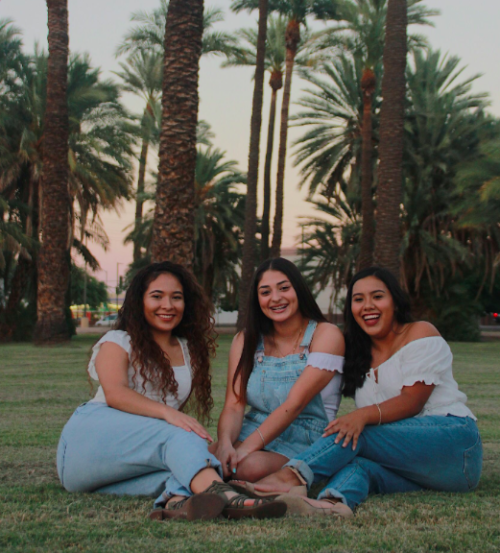 Hang on for a minute...we're trying to find some more stories you might like.
Senior pictures and locations are on every Seniors mind this time of  year and the ideas that come with it are endless!
Although seniors have to be wary of Senior picture directives, it's safe to say there'd be endless amounts of outfit and location ideas that go with every friend group. For some groups, it was the all-denim and white combo while others went for the simple yet classy all red or white dress. In delivering photos that truly capture who they are, the locations where seniors took their group and individual photos are also important for seniors when taking photos that will be seen by their peers and treasured by their families.
Senior picture locations included the best known natural landmark of Phoenix, Camelback Mountain, the ever distinctive Papago Park, and The Farm at South Mountain. While many seniors go for the nature theme, others, like Seniors Lily Tierney and Taryn Beldt took their photos outside of Luxury Scottsdale/Phoenix resorts such as the Royal Palms and  JW Marriott Resort and Spa. Senior Truly Helton, however, wanted the location to be different. "I took my pictures on 3rd Street and Roosevelt because I wanted to stay away from the typical background of desert theme." For the theme to be more reflective of herself, she said the location "consisted of a more urban fit and a graffiti background."
"Senior Photos" says senior Christy Tran, "are important to show around and serve as memories of your Senior year." The photos, given their own section at the end of the yearbook, give a chance for senior families to write a special tribute for their daughters as they move on toward a new journey. This message can be a bible verse, words of encouragement, and simple praise from proud senior families.
Mainly all seniors choose to do individual photos but, some take group photos with friends they've known since childhood and all through high school. Senior directives give students the option of having your photo on one-fourth, half, or a full page in the yearbook for different prices. The directives state what is allowed in the form of appropriate clothing and what will not be accepted. For some seniors, the idea of senior pictures are better just as individuals since they can showcase who you are.The idea of taking photos with the people who've conquered senior year with you, however, tops the list.
Some Seniors say taking photos is a hassle. That same "hassle" of taking your senior pictures says senior Eva Koehler De Celeya, is what makes taking these photos worthwhile. This also resonates with senior Andrea Hernandez, who said that "senior pictures are important because when you grow up it will always be nice to look back and see what you look like and show others and even laugh at how you dressed or how you did your makeup."