Dean Macrina speaks about kindness on campus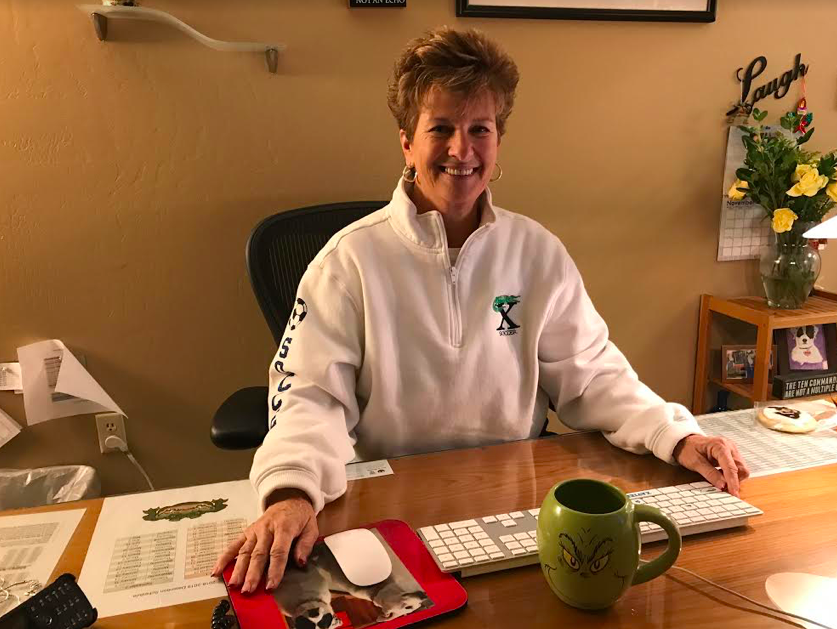 Xavier College Preparatory does not tolerate bullying.With the upcoming season of thankfulness and merriness, kindness should be seen all around. However, regarding high school students, being kind is not always present during the Holiday season, let alone year round. Exclusion is prevalent in 21st century high schools and it is an ongoing issue that causes people, especially girls, to feel left out and bullied. Although exclusion is a controversial issue in high schools as to whether it is a form of bullying, there is a type of bullying called "social exclusion." It is important for students to be able to recognize when social exclusion or bullying is going on. According to Defeat the Label, a non-profit organization that empowers students across the globe, social exclusion involves leaving out someone on purpose with the intention to hurt their feelings, or telling others not to be friends with a certain person and embarrassing someone in public when they try to approach your group.
On Nov. 5th, 2018, Dean Denise Macrina, who has a zero tolerance policy towards bullying, came on the announcements to talk about bullying and kindness. After hearing the talk on the announcements, I was intrigued and decided to sit down and talk with the Dean to learn more about the topic. I gained insight on her view of these significant topics. I started by asking Dean Macrina what inspired her to come on the announcements and talk to the school. She stated, "Our world. Nothing happened at Xavier. I was watching the news..[and] there are many dangerous things happening, and yet, through it all, I thought of you girls and realized how blessed we are to be at Xavier."
In our world today, there are daily tragedies on TV. When the Dean was watching, she thought about her Xavier girls. Dean Macrina wants the students of Xavier to "Reflect. I want them to reflect on their own demeanor and keep themselves in check as to whether or not they are being kind." Kindness is a trait that is lacking in most 21st century high schools.
Dean Macrina stated, "I'd be foolish to believe we don't have girl drama." Although there are many different solutions to solving girl drama and exclusion, the Dean expressed, "I'm not sure I can find the solution because I think it [kindness] has to come from the girls." Dean Macrina believes that the students at Xavier need to be the ones who make a change against exclusion and girl drama to instead start implementing kindness.
Kindness and exclusion are significant topics that many Xavier girls express through opinions. After talking to several seniors, the majority have had a good experience at Xavier in regards to friends and feeling included socially. Senior Brisa Footit stated, "Overall, I've had a great experience at Xavier by meeting new people and growing close with them over my four years. Xavier has a very welcoming community and everyone is a family here." Students have many opportunities to get involved with different activities or sports to meet new people. Dean Macrina stated that Xavier fosters inclusion by having multiple options for involvement, "We have a transfer club to ease the movement into a brand new school if you are new to Xavier. Xavier has various clubs, activities, and sports that you can join. These are all segues to brand new friendships."
Some Xavier students came into Xavier knowing very few people. Senior Tessa Tierney explained, "I came from a middle school where only five other girls came with me so it was scary at first coming here. Through different activities and putting myself out there, I have made some really great friends! Frosh soccer allowed me to meet my good friend Loren and some of my classes allowed me to meet other great girls."
Senior Alex Encinas, a transfer student to Xavier, stated, "I have only attended Xavier for two years after moving across the country; however, it has been a wonderful experience full of new friends and wonderful teachers guiding me towards a bright future." For students who either came to Xavier knowing few people or transferred to Xavier, there are options to get involved and meet new people, so making friends and feeling at home is an easy process. Dean Macrina proclaimed, "When you enroll in Xavier, you have close to 1200 girls to find good friends. Your friend group will change many times, but don't ostracize others just because they have different opinions than you." Despite the fact that people have different views and there are stereotypes as to what an all girls school would be like, Encinas commented, "Although Xavier is a campus full of girls, everyone is kind despite the stereotypes." At the end of the day, Xavier's campus is full of love, kindness, and school spirit.
Regarding the Dean's announcement, it is important for high schoolers to be educated about the problems that today's schools face. Senior Ashley Favata explained, "I think that it is important for girls to have the awareness that others might need a little help when making friends. Some girls are coming from different schools and are too shy to make friends. I think that it is important for them to be aware of the problem and try to do something about it to make a difference, because they might not be aware that it was a problem in the first place."
Another aspect of Xavier that brings kindness to the community is the motto "Let's be friendly," also known as LBF. Sister Lynn Windsor came up with this famous motto, and to the Dean it stands not only for let's be friendly, but it is also, "juxtaposed to let's be kind." I asked the Dean what it meant to her for Xavier becoming a kind campus and she stated, "Everyone, administration, teachers, staff, we are all involved with supporting kindness. Personally, when I see a student being kind, taking care of another, someone they may not even know, I will reward them, not just verbally but with a special acknowledgement."
Being kind on campus does not always go unnoticed. Senior Katie Banks exclaimed, "I feel like Xavier is a kind campus because we all show support to one another. There is a lot of kindness through Xavier and a lot goes unseen. I see people hold the door for others or help people with their lockers and even help when they have dropped something. I hold the door for a lot of people or even just smile in the hallways." Simple acts of kindness such as holding the door open, buying someone lunch, complimenting others, and simple smiles in the hall are all small acts of kindness that are seen each day on the Xavier campus. Footit stated, "The motto "LBF" is definitely portrayed on our campus. Everyone is kind to one another and this has made our campus very unique." Xavier College Preparatory is unique because of our famous motto, and many students strive to fulfill it.
During the day of Nov. 5th, many students and teachers asked the Dean and inquired what caused the announcement, along with saying that they supported her talk. To this the Dean replied, "My heart happened. I felt it in my heart to have that conversation." Many students and administration appreciated that announcement, and Encinas exclaimed, "The Dean's announcement took me a little by surprise but it was very necessary and communicated a wonderful message."
Common solutions to create an end to social exclusion are actions such as facilitating friendships with people who have the same interests as you, providing increased adult supervision when lunch time comes around, and having activities at school to help students get to know each other and make friends.
Dean Macrina stated, "You are not always going to get along with everyone. But I want my community to always accept everyone. We are not just tolerating, we are accepting." Xavier is a kind campus, and although students may have different opinions, I feel everyone accepts one another and bullying is not tolerated.
On behalf of Xavier, Dean Macrina says, "We are a family. Families argue. Families disagree; however, the pride, the motivation, and the love will pull us back together."