Paving the way for STEM: ESports Comes to Xavier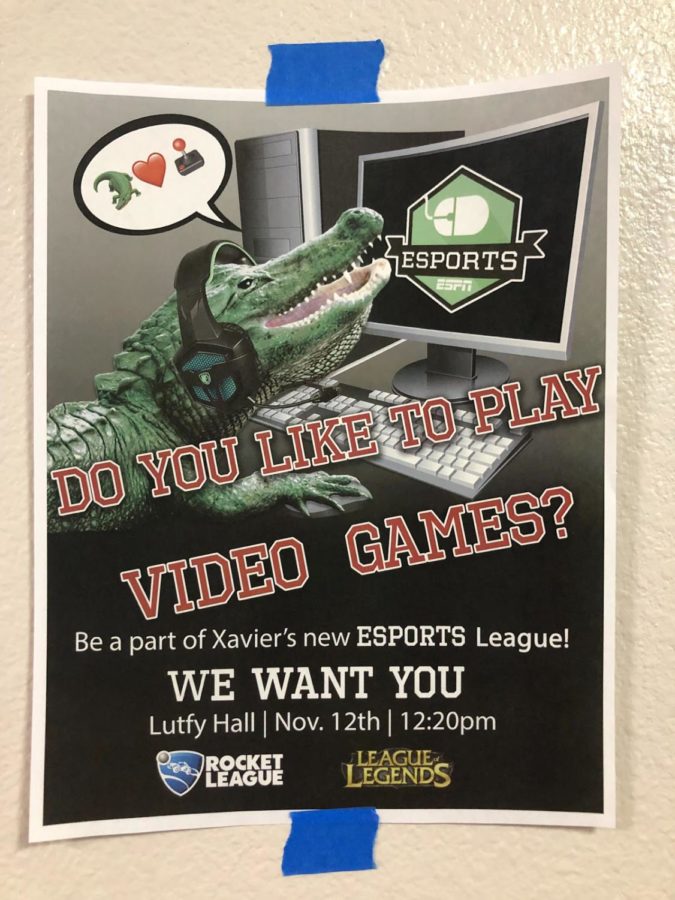 Hang on for a minute...we're trying to find some more stories you might like.
Xavier has always, and continues to be, a STEM advocate school. Having the resources to teach students about STEM and encouraging women to take part in it, Xavier is now becoming one of the pilot schools implementing ESports. ESports, a competitive gaming system, takes gaming to a whole new level by competitively challenging a student's fast reflexes and thinking through online, multiplayer video games.
Xavier will include popular games such as League of Legends and Rocket League. According to the "League of Legends" website, it is "a fast-paced, competitive online game that blends the speed and intensity of an RTS (Real-Time Strategy) with RPG (Role-Playing Game) elements. Two teams of powerful champions, each with a unique design and playstyle, battle head-to-head across multiple battlefields and game modes."
Meanwhile, "Rocket League" describes its virtual game as one that "combines soccer with driving in an unbelievable physics-based multiplayer-focused sequel to Supersonic Acrobatic Rocket-Powered Battle-Cars. [Players can] choose from a variety of high-flying vehicles equipped with huge rocket boosters to score amazing aerial goals and pull off incredible, game-changing saves."
ESports has existed since 2000, but was fully established until the late 2000s. Since that time, ESports has evolved into a much more wide-ranged event that allows gamers and amateurs to test their skills against an array of other competitors. According to Fantastic ESports, competitive gaming is a competition in which multiple players or teams play against each other to determine one final winner. Most ESports games are Multiplayer Online Battle Arenas (MOBA), Real-Time Strategies (RTS) and Fighting Games and First-Person Shooters (FPS). Since 2000, ESports has been taken seriously and the Electronic Sports World Cup and World Cyber Games (WCG) have since been established so that people from all over the world can gather and join together to compete.
ESports was mainly a male dominated sport. But women are now joining and showing how they are capable of gaming just like men. Recently, women are taking part with these recent changes and additions to Major League Gaming (MLG). In return, this allows women to be seen in a different light and empowers women to strive for their dreams in whatever it may be.
Xavier implementation of this sport is an attempt to reach out and motivate women to take part in STEM. If Xavier students are interested in taking part of ESports, which will start after winter break, I encourage you to reach out to ESports coach, Erika Peinado at the help desk inside the front office. Ms. Peinado is excited to meet the gamers of Xavier and is excited about creating a team for ESports.
So, come join or support ESports and be a part of the Xavier ESports League after the winter break!