A Gator's book review: quick reads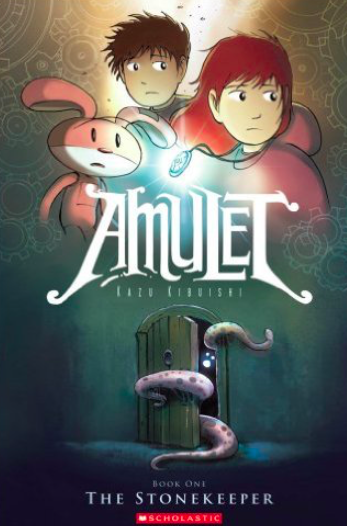 Hang on for a minute...we're trying to find some more stories you might like.
One thing I have learned is to never check out a book at the library if you are not going to finish it by the time it is due. For this reason, everyone enjoys a fast read, which is why I have collected three fast reads that are sure to capture your attention by just their size and ornate writing style.  
Author: Kazu Kibuishi
Illustrator: Jason Caffoe
Walking houses, a voice in an amulet and elves, this book has it all, along with illustrations that any comic book illustrator would be proud of. I was first captured by the detail and the cover of the book itself, which follows Emily and her brother Navin as they make the move to their great-grandfather's old house in a town near San Francisco after the death of their father, David Hayes, in a car accident. As they clean the house, Emily discovers the Amulet in her great-grandfather's basement and puts it on. The main conflict of the comic sets the stage up well to give Emily a reason to listen to the voice of the amulet that tells her to accept the powers of the amulet and become a stonekeeper to save her mother, Karen, who is kidnapped by a monstrous arachnopod. Cue the robot rabbit, Miskit, and a mysterious elf, Trellis, who follows them as they try to save their mother. The graphics and storyline mark this book as an easy read with all of the fun that fantasy and magic can deliver.
Author: Sonya Sones
This book is a fast read, both funny and touching. These attributes may be because Sones writes about the thoughts many teenagers find themselves thinking when they have a crush. The book is written in free verse and the angst poetry that Sones writes to present only Sophie's thoughts through the story make it not only easy to read but also captivating.  Sophie sees herself as the "Mount Everest of teenage girls" who shares the struggles in her love life, friend group and family. While that may sound like the typical young adult story, Sones writes with depth and depicts Sophie's revelation about what true love is with honesty. I was able to believe Sophie's experiences and sympathize with her, even though there were times I wanted to reach into the book and give her a good shake. I learned that this is how life goes; sometimes you come to find things out with a little help from others or all on your own. What My Mother Doesn't Know takes us through that journey and brings satisfaction and recognition along the way for anyone who reads it.
Author: Lucy Maud Montgomery
I never got into this book until I saw its animated series on TV. I wanted to check if the animated series portrayed the characters and situations the same way the book did. After reading the first book, I was enraptured and made it my goal to read every book in the series. As an orphan, Anne was not what Matthew and Marilla Cuthbert were expecting when they asked to have a boy from the orphanage. Anne, however, who sees beauty in everything, is talkative and so loving that everyone who flocked to her was transformed. The literature world calls this book a classic and after reading it, I could see what people meant by that. The book is set in the early 1900s on Prince Edward Island in Canada, in a small made-up town called Avonlea. The only forms of entertainment Anne has is her books, and of course, her imagination, which takes the reader on adventures and situations only an 11-year-old like Anne could conjure up. As a kindred spirit,  I saw Anne as someone anyone can learn from. At a time when honesty was the highest valued trait and the golden rules still applied, Anne of Green Gables is a book that will capture your attention for the simplest of reasons and encourage you to imagine ways to get yourself out of picky situations and see the general good in everyone.
I have definitely felt senioritis as the months have been winding down. I chose these three books to be something that can help people slow down and enjoy themselves. As time goes by, a person is sometimes struck by how fast things are changing and books like Anne of Green Gables push you to give a nod to your past self and all the memories that you have made. While reading What My Mother Doesn't Know, I laughed and found myself captivated by how well each of the verses made it more easier to follow Sophie's thoughts and question myself to see if I would have made the same decision that she made in certain situations. The main thing, however, is that each book was fun to read and relaxing at the same time. Hopefully you give these books a chance and become captivated to finish the next books in the series. Happy reading!