Traditions week recap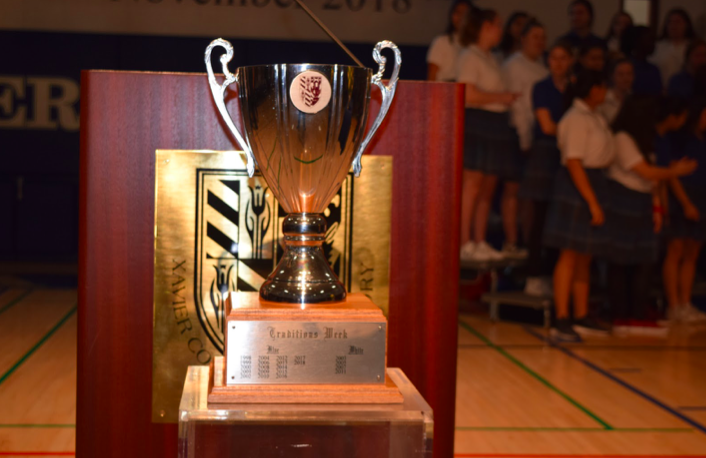 Starting on Feb. 25, Traditions Week was set into full swing along with an abundance of activities. This annual tradition focuses on celebrating Xavier alumnae and reflects on the many traditions that make our school community unique, especially considering that Xavier is over 75 years old. The week long celebration of traditions is all thanks to the coordination of Presidents' Council and Ms. Shelly Cahill, the Director of Student Activities here at Xavier. Per usual, the freshmen and juniors represent the blue team with the even graduation years, while the sophomores and seniors represent the white team with the odd graduation years.
Starting off Traditions Week, on Mon., Feb. 25, a cake walk was held at lunch in front of the Athletic Center. For only $1, students received four tickets. In addition to the cakewalk, a M&M quantity guessing game was available for students to play.
Next, on Tue., the Traditions Assembly was held after break, the M&M quantity guessing game was offered again at lunch, and a kickball game was coordinated on Petznick Field simultaneously. Earlier at the assembly, after a short introduction by Traditions Day coordinators, senior Anika Salazar and junior Emma Elsbecker, the Xavier community demonstrated their school pride by singing the alma mater. The alumnae that attended the ceremony were especially fond of this.
During the assembly, Mr. Nelson, Mrs. Hubbard, and Mrs. White all received special recognition awards for their work ethic and dedication to the Xavier community. Later, alumnae from the class of '49, '59, and '69 were specially honored. The class of '59 and '69 alumnae both spoke and reminisced on their days as a highschool student at Xavier. For an article about the Traditions Day speakers, click here.
Next at the assembly, Performance Dance showcased a choreographed piece for the alumnae. The assembly closed with the Traditions Day chair women and each class President processing out with class flags and simultaneously leading out the honored alumnae and their families.
For the rest of the week, a DJ performed at the Bell Tower during lunchtime.
Hannah Shulski, a senior and the DJ at many of the lunch time performances, states, "I really enjoy being a DJ at Xavier, so I was thrilled to DJ at lunch during traditions week! I had so much fun playing music on Thursday at the Bell Tower because my fellow Xavier students are such a great audience. I thought that traditions week went really well this year and as a senior I am sad that I won't be able to celebrate Xavier traditions week next year."
By Thur. morning in homeroom, the results were in. Finally, for the first time in seven years, the white team, which was made up of the seniors and sophomores, won the Traditions Day Trophy!