Xavier's Alumni Teachers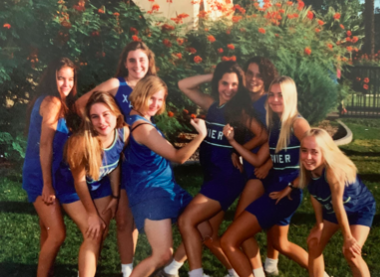 Books, movies, and society all say high school is the acme of one's life. The unforgettable smell of textbooks that fill the hallways and the sound of pencil lead scratching on paper carry with you for years. The booming cheering at home football games and the distinct background noises of your friends discussing weekend plans nest in your memory. In some cases, these are all small parts that make up the best four years of one's life. Once you graduate, a feeling of confusion overwhelms you as your familiarities vanish away leaving you to begin a new journey. Because of the sense of home and comfort that school brings, many choose to return to campus in a teaching position. As an outsider, many are confused as to why one would want to return to their Alma Mater years later. Xavier College Preparatory has several of these unique teachers. One of the many very loved alumni teachers here at XCP, Mrs. Becker, teaches Geometry class. Mrs. Becker graduated in 1994 and has impacted so many lives since she came back to teach in 2017. When being interviewed on what it was like to be an Alumni Teacher Mrs. Becker delivered some fascinating stories that she was so kind to share. 
Mrs. Becker claims that her Freshman year was the hardest of all her four years at Xavier because "I was the only one that came to Xavier from my junior high school". High school can be a very difficult and daunting transition for incoming freshman. Although, Mrs. Becker stuck it out and created so many great memories on campus; her favorite being student council.
 Reflecting on her time at XCP, Becker ponders her influencers. "I had a really great math teacher in junior high school who inspired me. Another math teacher that also inspired me to go into teaching was my pre-calculus teacher at Xavier, Sister Shirley.  In addition to being a math teacher, she was very fit for her age. She used to walk a few miles before work every morning. She just seemed really "together" to me and I admired that. I was a cashier at Basha's on 7th Ave and Osborn (now a Sprouts) and she used to shop there and we would talk about math when she came through my line.  I also had Sister Lynn as my senior student council adviser – she also inspired me because she loves Xavier and the girls here and she likes to have fun and joke around, which I like to do too." 
Was this math teacher her sole inspiration for coming back to teach at Xavier? Becker suggests "initially, I wasn't drawn to Xavier. I felt compelled and drawn to teach at inner-city, high-need schools and I am so happy that I did that first.  I think it made me a better teacher and makes me appreciate the environment at Xavier. I think I always knew way back in my head that I would eventually want to come back to Xavier and teach mathematics."
Upon pondering what Mrs. Becker had shared, it can be concluded that the whole school environment is what pulls teachers back. Mrs. Becker takes inspiration from her high school teachers who always made her feel welcome. High school creates sentimental memories that travel with you throughout your life and sometimes delivers you back to where you began.