90's Trends Are Making a Comeback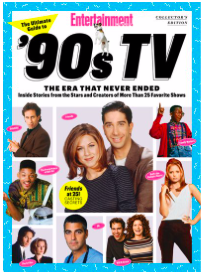 Sarai Arkeveld, Club Writer
October 22, 2019
Adults who were kids in the 90's brag about how great their generation was with fashion, TV shows, and of course the famous silly bands. As a result, it should not be a surprise that this popular era has made its comeback in the modern-days. Someone who mimics these past fashion trends is usually referred to as a "VSCO girl." VSCO is a widely popular app similar to Instagram or facebook. These so-called "VSCO girls" are best known for wearing scrunchies and friendship bracelets, a prevailing fashion trend during the '90s. As shown in Teen Vogue, the '90s was a time of bold colors and baggy shirts. We can see examples of this type of dress in the '90s TV show, Friends, with the audience favorite character, Rachel Green. Rachel's style, with its abundance of denim and loose-fitting tops, dominated the '90's, but many also wear such styles today. We are also seeing a major comeback in Crocs, which many people considered ugly before VSCO gained popularity. Now people have fun mixing Jibbitz and buying all different colors of Crocs. "VSCO style" is anything short of piggyback off of the '90s trends would be a complete lie. However, kids are definitely creating new and unique looks to this trend. 
Similar to the comeback of fashion, popular toys and accessories from the 90's era are re-appearing as well. From skateboards to scrunchies, there is no end to '90's culture references in today's society. An example of this being shell necklaces becoming very popular again. Not to mention, bucket hats are the new cool! Many people would describe this style as a modern-day '90's girl meets a surfer girl. 
Like many fads, the VSCO obsession will eventually fade and disappear, but it does not seem like we will be hanging up our scrunchies any time soon. So for the rest of the population, we will have to deal with "tsksksks", "an I oop an I oop", and "what do you mean you don't have a Hydro Flask" VSCO remarks for quite some time.